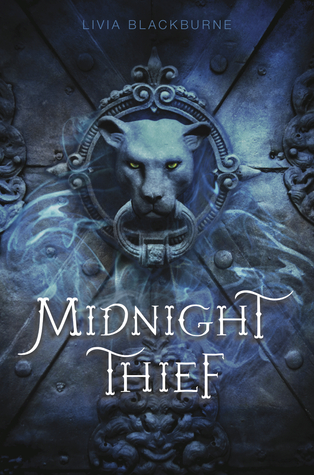 Midnight Thief
Author:
Livia Blackburne
Publication:
Disney-Hyperion (July 8, 2014)
Description:
Growing up on Forge's streets has taught Kyra how to stretch a coin. And when that's not enough, her uncanny ability to scale walls and bypass guards helps her take what she needs.
But when the leader of the Assassins Guild offers Kyra a lucrative job, she hesitates. She knows how to get by on her own, and she's not sure she wants to play by his rules. But he is persistent-and darkly attractive-and Kyra can't quite resist his pull.
Tristam of Brancel is a young Palace knight on a mission. After his best friend is brutally murdered by the Demon Riders, a clan of vicious warriors who ride bloodthirsty wildcats, Tristam vows to take them down. But as his investigation deepens, he finds his efforts thwarted by a talented thief, one who sneaks past Palace defenses with uncanny ease.
When a fateful raid throws Kyra and Tristam together, the two enemies realize that their best chance at survival-and vengeance-might be to join forces. And as their loyalties are tested to the breaking point, they learn a startling secret about Kyra's past that threatens to reshape both their lives.
My Thoughts:
Kyra is a talented young thief in the city of Forge. She has learned her survival skills well. But when her talents bring her to the attention of James, who is head of the Assassin's Guild, she will have to learn to survive in a new situation. James is trying to bring down the rulers of Forge and sees Kyra as a handy tool.
Tristam of Brancel is newly knighted and sworn to protect Forge. One of his first missions is to find out how the Assassin's Guild is learning so much about the government's plans. Tristam doesn't know that he is looking for Kyra.
Meanwhile, the city of Forge is being attacked by Demon Riders who are warriors with bloodthirsty wildcats as companions.
Through the course of this story, Kyra is under the control of James and the Assassin's Guild, then she is captured by the Council, and finally she is under the control of the Demon Riders. This story has an abundance of villains. None of the three powerful groups are the sorts of people anyone would want to have rule. The only good people in the story are those who have no political power like Kyra, her friends, and Tristam.
This story had lots of twists and turns. The world was well-developed. I enjoyed reading it very much and cared very much about Kyra and her survival.
Favorite Quote:
Tristam looked down, reminding himself to speak carefully, that he was addressing the most powerful man in Forge. "I suppose, Your Grace, that these tactics remind me too much of what the Assassin's Guild would do."

"How so?"

"It's underhanded, and it's cowardly."

Willem's expression hardened. "Watch yourself, young knight. You speak above your station."
I got this eARC through NetGalley.
You can buy your copy here
.