Teaser Tuesdays is a weekly bookish meme, hosted by MizB of
Should Be Reading
. Anyone can play along! Just do the following:
Open to a random page
Share two (2) "teaser" sentences from somewhere on that page
BE CAREFUL NOT TO INCLUDE SPOILERS! (make sure that what you share doesn't give too much away! You don't want to ruin the book for others!)
Share the title and author, too, so that other TT participants can add the book to their TBR Lists if they like your teasers!
Teaser:
No alarm went off. No warning lights. Orly did not come running. Our fifty tall beds, with their paneling below and full-length glass lids on top, were line up in two rows as straight and motionless as so many coffins. Cameras had to be picking up my movements, but either no one cared that I was breaking the rules, or the night techies didn't watch carefully. A third possibility didn't then occur to me: someone cared very much, was watching closely, and still let me continue.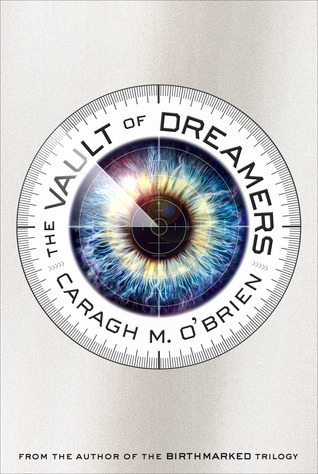 This week my teaser comes from
The Vault of the Dreamers
by Caragh M. O'Brien. i got this ARC from Macmillan. The book will be released on Sept. 16.
Here is the description:
The Forge School is the most prestigious arts school in the country. The secret to its success: every moment of the students' lives is televised as part of the insanely popular Forge Show, and the students' schedule includes twelve hours of induced sleep meant to enhance creativity. But when first year student Rosie Sinclair skips her sleeping pill, she discovers there is something off about Forge. In fact, she suspects that there are sinister things going on deep below the reaches of the cameras in the school. What's worse is, she starts to notice that the ridges of her consciousness do not feel quite right. And soon, she unearths the ghastly secret that the Forge School is hiding—and what it truly means to dream there.

From Caragh M. O'Brien, author of the Birthmarked trilogy comes the first book in a new series, The Vault of Dreamers, a fast-paced, psychologically thrilling novel about what happens when your dreams are not your own.