Teaser Tuesdays is a weekly bookish meme, hosted by MizB of
Should Be Reading
. Anyone can play along! Just do the following:
Open to a random page
Share two (2) "teaser" sentences from somewhere on that page
BE CAREFUL NOT TO INCLUDE SPOILERS! (make sure that what you share doesn't give too much away! You don't want to ruin the book for others!)
Share the title and author, too, so that other TT participants can add the book to their TBR Lists if they like your teasers!
Teaser:
He had to force himself to eat a cold can of stew and drink a bottle of water. It was rare for Jax to have no appetite, although it had happened the day his dad never came home...and the day they'd found the car in the river...and the day Riley Pendare had brought him here.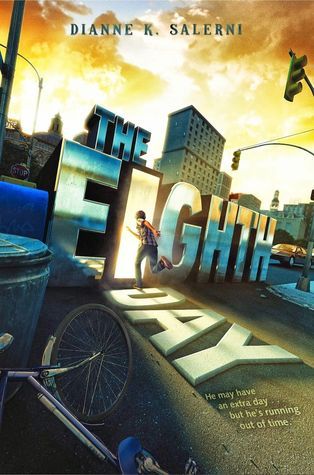 This week my teaser comes from
The Eighth Day
by Dianne K. Salerni. This fantasy is from my TBR mountain. Here is the description:
In this riveting fantasy adventure, thirteen-year-old Jax Aubrey discovers a secret eighth day with roots tracing back to Arthurian legend. Fans of Percy Jackson will devour this first book in a new series that combines exciting magic and pulse-pounding suspense.

When Jax wakes up to a world without any people in it, he assumes it's the zombie apocalypse. But when he runs into his eighteen-year-old guardian, Riley Pendare, he learns that he's really in the eighth day—an extra day sandwiched between Wednesday and Thursday. Some people—like Jax and Riley—are Transitioners, able to live in all eight days, while others, including Evangeline, the elusive teenage girl who's been hiding in the house next door, exist only on this special day.

And there's a reason Evangeline's hiding. She is a descendant of the powerful wizard Merlin, and there is a group of people who wish to use her in order to destroy the normal seven-day world and all who live in it. Torn between protecting his new friend and saving the entire human race from complete destruction, Jax is faced with an impossible choice. Even with an eighth day, time is running out.

Stay tuned for The Inquisitor's Mark, the spellbinding second novel in the Eighth Day series.
I bought this one after I got THE INQUISITOR'S MARK for review.