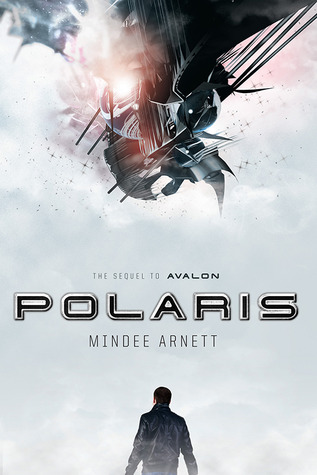 Polaris
Author:
Mindee Arnett
Series:
Avalon (Book 2)
Publication:
Balzer + Bray (January 20, 2015)
Description:
Jeth Seagrave and his crew of mercenaries are pulled into one last high-stakes mission in this breathtaking sequel to Mindee Arnett's
Avalon
, which
SLJ
called "an exciting piece of science fiction that keeps up its energy from beginning to end" in a starred review.
Jeth Seagrave and his crew are on the run. The ITA, still holding Jeth's mother in a remote research lab, is now intent on acquiring the metatech secrets Jeth's sister Cora carries inside her DNA, and Jeth is desperate to find the resources he needs to rescue his mother and start a new life outside the Confederation. But the ITA is just as desperate, and Jeth soon finds himself pursued by a mysterious figure hell-bent on capturing him and his crew—dead or alive.

With nowhere to run and only one play left, Jeth enters into a bargain with the last person he ever thought he'd see again: Daxton Price, the galaxy's newest and most fearsome crime lord. Dax promises to help Jeth, but his help will only come at a price—a price that could mean sacrificing everything Jeth has fought for until now.
My Thoughts:
This sequel to AVALON has Jeth Seagrave and his crew fleeing from the evil ITA which controls metadrive which links the planets. Jeth has secrets about metadrive that ITA will do anything to suppress. Jeth is also trying to rescue his mother who has been a captive of ITA for years.
Jeth enters a bargain with the enemy he fled in the first book and finds his worst nightmare realized when Dax completes Jeth's implant which allows Dax to control him. Jeth finds the implant almost addicting once he accepts that it is there. He hates losing control but craves the implant. But Dax has rescued Jeth's mother and she has a new plan that must be accomplished for the good of all. Dax is going along with it because he sees advantages for himself in thwarting the ITA.
The crew has all sorts of problems to overcome not least of which is the ITA agent who is fanatically determined to capture Jeth and his crew to preserve the ITA's monopoly on space travel. The story is filled with danger, adventure, and lots and lots of hard decisions.
Fans of science fiction will want to read this one. It was very entertaining.
Favorite Quote:
Jeth pressed his lips together, his anger rising. It was power. And power meant freedom. It meant everything he'd ever wanted at last. It was a lesson he'd been learning all his life. Now was the time to claim it.
I got this eARC from Edelweiss. You can buy your copy here.