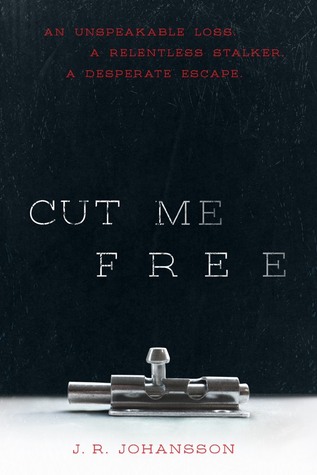 Cut Me Free
Author:
S. R. Johansson
Publication:
Farrar, Straus and Giroux (BYR) (January 27, 2015)
Description:
Seventeen-year-old Charlotte barely escaped from her abusive parents. Her little brother, Sam, wasn't as lucky. Now she's trying to begin the new life she always dreamed of for them, but never thought she'd have to experience alone. She's hired a techie-genius with a knack for forgery to remove the last ties to her old life. But while she can erase her former identity, she can't rid herself of the memories. And her troubled history won't let her ignore the little girl she sees one day in the park. The girl with the bruises and burn marks.
That's when Charlotte begins to receive the messages. Threatening notes left in her apartment--without a trace of entry. And they're addressed to Piper, her old name. As the messages grow in frequency, she doesn't just need to uncover who is leaving them; she needs to stop whoever it is before anyone else she loves ends up dead.
My Thoughts:
CUT ME FREE was an excellent story that caught a grip on my heart and didn't let go until the last page was turned. Piper is on the run from her old life. She spent eleven years in the attic of the people she called The Parents being abused. For six of those years she had the company of her brother Sam. She did her best to protect him but, one day, the Father woke her up and told her to bury him. That was the last straw for Piper. She attacked both the Mother and the Father and believes that she killed them. Since they had helped her grandmother die and stolen her money from her, Piper does have a stake to help her make a new start.
When the story begins, she is in Philadelphia and contacting a person to buy a new identity. She doesn't expect Cam to be the person. He is a skilled hacker but he is also a guy about her own age who really wants to be her friend. Piper, now renamed Charlotte, doesn't want him in her life. She has never had anyone she could trust. Things escalate when she sees a young girl in the park who is showing all the same signs of abuse that Piper did. She manages to rescue Santa and thinks she has also killer Santa's abuser. But then the messages start arriving in Charlotte's apartment.
This was an excellent story about a young woman finding her strength and the strength to move on and let other people into her life. But first she has to deal with a really scary villain.
Piper was a character that every reader should get to meet. I can't wait to share this story with the students in my high school media center.
Favorite Quote:
I know his voice isn't real. That he's dead and I'm essentially arguing with myself. But it helps me feel like he's still with me. And if that means I'm walking a bit on the crazy side of the sanity line, I'm okay with that. I've lived through reality—didn't care much for it.
I got this ARC from Macmillan for review. You can buy your copy here.