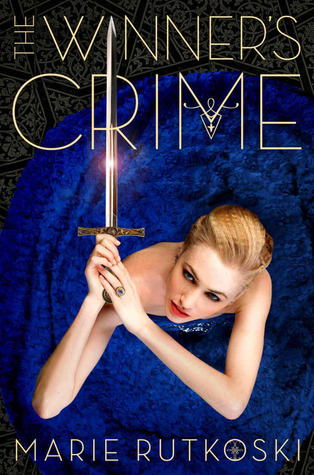 The Winner's Crime
Author:
Marie Rutkoski
Series:
The Winner's Trilogy (Book 2)
Publication:
Farrar, Straus and Giroux (BYR) (March 3, 2015)
Description:
Following your heart can be a crime
A royal wedding is what most girls dream about. It means one celebration after another: balls, fireworks, and revelry until dawn. But to Kestrel it means living in a cage of her own making. As the wedding approaches, she aches to tell Arin the truth about her engagement: that she agreed to marry the crown prince in exchange for Arin's freedom. But can Kestrel trust Arin? Can she even trust herself? For Kestrel is becoming very good at deception. She's working as a spy in the court. If caught, she'll be exposed as a traitor to her country. Yet she can't help searching for a way to change her ruthless world . . . and she is close to uncovering a shocking secret.
This dazzling follow-up to
The Winner's Curse
reveals the high price of dangerous lies and untrustworthy alliances. The truth will come out, and when it does, Kestrel and Arin will learn just how much their crimes will cost them.
My Thoughts:
THE WINNER'S CRIME was an amazing book that I couldn't put down. When it begins, Kestrel is in the Emperor's palace and engaged to the Emperor's son. She believes that she has done the best she can for Arin and for his country. But the Emperor isn't finished plotting. After maneuvering her into setting a date for the wedding, he decides to hold a ball and command all the governors to attend.
Arin, feeling that Kestrel has betrayed him, is not eager to attend and determines to send his Minister of Agriculture, Tensen, in his place. At the last minute, he decides to attend too. This just makes things harder for Kestrel who has to convince Arin that she had no feelings for him and that she is being governed by self-interest. Arin is just one more tool that the Emperor can wield to keep Kestrel under control. Kestrel begins spying for Tensen and quickly finds that there is a deeper plot.
Arin leaves the palace after he is injured. But instead of going home, he decides to go East to see if he can recruit some allies. It is while he is trying to convince them that joining with his people would be to their advantage that he comes to a new realization about what Kestrel had done.
This story has a complex, twisty plot and there are lots of opportunities for Arin to misunderstand Kestrel which leads to heartbreak for both of them. Kestrel is walking a fine line as she deals with her love for her father and her love for Arin while trying to outwit an emperor who has many more years experience at plotting. The cliffhanger ending leaves me aching for the final book in this series.
Favorite Quote:
Her father held his honor so firmly, like a solid thing, something that couldn't twist free. It occurred to Kestrel that she had wondered before what her father's honor was like, and Arin's, but she didn't know the shape of her own.

There was dishonor, she decided, in accepting someone else's idea of honor without question.
I got this ARC from Macmillan.
You can buy your copy here
.