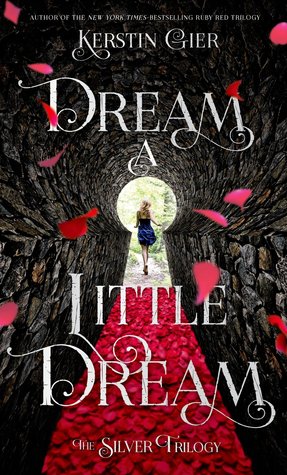 Dream a Little Dream
Author:
Kerstin Gier
Series:
The Silver Trilogy (Book 1)
Publication:
Henry Holt and Co. (BYR) (April 14, 2015)
Description:
Mysterious doors with lizard-head knobs. Talking stone statues. A crazy girl with a hatchet. Yes, Liv's dreams have been pretty weird lately. Especially the one where she's in a graveyard at night, watching four boys conduct dark magic rituals.
The strangest part is that Liv recognizes the boys in her dream. They're classmates from her new school in London, the school where she's starting over because her mom has moved them to a new country (again). But what's really scaring Liv is that the dream boys seem to know things about her in real life, things they couldn't possibly know—unless they actually
are
in her dreams? Luckily, Liv never could resist a good mystery, and all four of those boys are pretty cute....
My Thoughts:
I enjoyed DREAM A LITTLE DREAM. I especially liked Liv's character. Liv is brave, curious, and resilient. She has to be. She and her sister Mia have been shifted often between her divorced parents - both of whom have jobs that involve traveling. She has been in six different schools in the last eight years. She has also been in six different countries on four different continents. Her father is an engineer and her mother a professor of literary studies.
When the story begins Liv, Mia, their au pair Lottie who has been with them for years, and their dog Butter find themselves in England. Liv's mother has finally gotten her dream job lecturing at Oxford and the kids are looking forward to living in a cottage in Oxford. However, their mom has a surprise for them. She has met a man and they are going to be moving into his house along with his two kids. Instead of Oxford, they will be living in London and attending the same posh school as the boyfriend's kids.
It is at the school that things start to get interesting. There is a mysterious blogger who knows all the inside gossip who calls himself/herself Secrecy. Since both Mia and Liv love a mystery and secrets, they are determined to uncover this person. But Liv gets a little side-tracked when she begins lucid dreaming and finds herself meeting four of the most handsome and powerful boys in the school in her dreams.
These mysterious boys include her new brother Grayson who tries very hard to discourage Liv from getting involved with them. But Liv is too curious to heed his excellent advice and soon finds herself mixed up in a possible ritual to summon a demon. Also in the group is Henry who becomes Liv's friend and first boyfriend.
This was an exciting story filled with mysteries. It is also the first book in a trilogy. Lots of questions, including the identity of Secrecy, are left to be uncovered in the future books. I do have a guess about Secrecy's identity and look forward to reading the future books to find out if I am correct.
Fans of mystery, the paranormal, and romance are the target audience for this one.
Favorite Quote:
"Always assuming you are still a virgin," confirmed Jasper.

"Yes, I get that bit. What I don't get, apart from just how the game works, is why you don't stop playing it. Simple."

"No, it's not simple at all,. That's why." Jasper leaned forward and went on, lowering his voice. "We did try, but you see, you can't make a pact with a demon and then just wriggle out of it."
I got this ARC from Macmillan. You can buy your copy here.