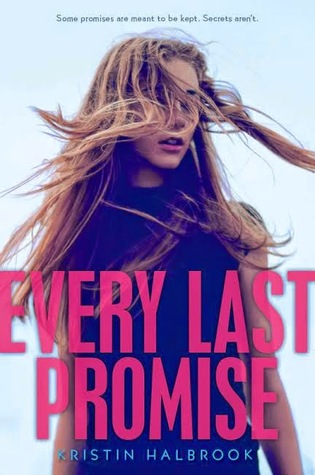 Every Last Promise
Author:
Kristen Halbrook
Publication:
HarperTeen (April 21, 2015)
Description:
Perfect for fans of Laurie Halse Anderson and Gayle Forman,
Every Last Promise
is a provocative and emotional novel about a girl who must decide between keeping quiet and speaking up after witnessing a classmate's sexual assault.
Kayla saw something at the party that she wasn't supposed to. But she hasn't told anyone. No one knows the real story about what happened that night—about why Kayla was driving the car that ran into a ditch after the party, about what she saw in the hours leading up to the accident, and about the promise she made to her friend Bean before she left for the summer.
Now Kayla's coming home for her senior year. If Kayla keeps quiet, she might be able to get her old life back. If she tells the truth, she risks losing everything—and everyone—she ever cared about.
My Thoughts:
This was an interesting story which alternated in time from Spring to Fall. The story begins with these two intriguing sentences: "This is a story about heroes. I am not one of them."
It is told by Kayla Martin about the events that happened at the end of the year party alternating with her return to school in the fall as a social pariah. She loves her home town. Despite the urging of her best friends, she has no desire to leave after high school. She loves the scenery, the people, and the lifestyle. She has three best friends - Jen, Bean and Selena. They are part of the in-crowd. Jen and her twin brother Jay are from a rich family. Jay is the football quarterback of their championship team. He has grown up with a sense of entitlement encouraged by his mother. Jen sometimes loves him and sometimes hates him because of the privileges he gets.
When we switch to the fall scenes we see a different Kayla than the care-free one from last spring. She is accused of killing one of the other boys in their class and she has major guilt about the whole thing. Gradually we find out what happened at the end of the year party and how she came to be involved in the accident that took a life.
We see Kayla's disillusionment as she discovers that her home town isn't the magic, innocent place that she had thought it was. We see her struggling to try to fit back in at the place that she wanted to be her home for her whole life. All she has to do to fit back in is to forget what she saw and pretend that what she knows never happened.
As she is trying to decide what to do, she connects again with a boy who has always been there but who has perfected his ability to be invisible. Noah Michaelson was a childhood friend but has been on the fringe of her life since they grew up. He's different from the other guys both because he has a Filipino mother and because he is interested in music rather than sports. Now Kayla is running into him where ever she goes. She has begun to realize that many people know the secret she is keeping and are keeping it for their own reasons.
This was a fascinating story about having to make a hard decision that will certainly change the course of a life.
Favorite Quote:
Yes, I came back here. I came back to reclaim a world of love and laughter, a place with sprinkles of magic at the edges. But the people who used to live there aren't the same. The dust in the air at sunrise doesn't shimmer anymore; it just looks dirty. The river smells murky instead of fresh. the magic is gone. From this place...and from me.
I got this ARC from Edelweiss.
You can buy your copy here.