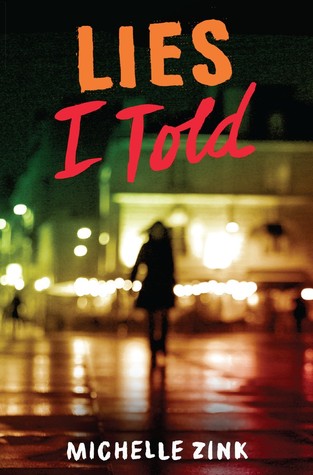 Lies I Told
Author:
Michelle Zink
Publication:
HarperTeen (April 7, 2015)
Description:
Grace Fontaine has everything: beauty, money, confidence, and the perfect family. But it's all a lie.
Grace has been adopted into a family of thieves who con affluent people out of money, jewelry, art, and anything else of value. Grace has never had any difficulty pulling off a job, but when things start to go wrong on the Fontaines' biggest heist yet, Grace finds herself breaking more and more of the rules designed to keep her from getting caught . . . including the most important one of all: never fall for your mark.
Perfect for fans of Ally Carter and Robin Benway, this thrilling, high-stakes novel deftly explores the roles of identity and loyalty while offering a window into the world of the rich and fabulous.
My Thoughts:
This was an interesting story that left me with quite a few questions. Grace is seventeen and is the adopted daughter of two people who live by conning people out of money and other valuables. She has an older adopted brother named Parker. They have come to California with the intention of robbing a man of his stash of gold bars - $20 million worth. Grace's role is to get close to the son of the house.
Grace has her cover story and things are going according to plan until she actually meets Logan. He is somehow different. Grace has been doing this kind of thing since she was adopted out of a bad foster care situation when she was eleven. She should be used to lying to everyone around her. But this time something is different. She makes a real friend for the first time and she falls in love for the first time.
The tension in the story builds as Grace, Parker and her parents Cormac and Renee weave their way into the town of Playa Hermosa and work their plot to locate and steel the gold bars. Grace has lots of doubts about her lifestyle but it is the only one she has known for six years and her "parents" are the only stability in her life. Moving from place to place every few months to run a new scam doesn't lead to a stable life. Parker wants out and he is trying to convince Grace to go with him. Grace, despite her reservations, is determined to see this con through.
I had lots of questions as I was reading. Grace's family has a mysterious next door neighbor who apparently has secrets of his own. I am curious to learn more about his story. I am also curious about what happens to Logan in the story. His fate is definitely open to interpretation. Grace's fate is also unresolved as the story ends.
Fans of the lifestyles of the rich and famous and fans of stories of first love will enjoy this entertaining story.
Favorite Quote:
The ID was dangerous, against the rules. All my mementos were. But they were the only things that made me feel real, that made real all the places I'd been, all the people I'd met. Sometimes I thought my forbidden trinkets were the only proof I existed at all.
I got this ARC from Edelweiss.
You can buy your copy here
.