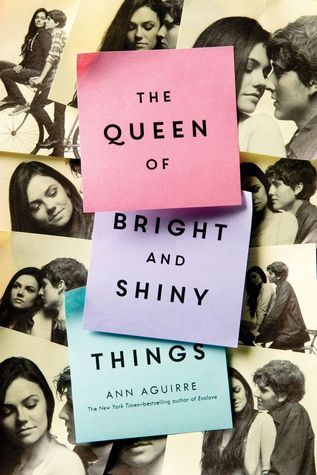 The Queen of Bright and Shiny Things
Author:
Ann Aguirre
Publication:
Feiwel & Friends (April 7, 2015)
Description:
Sage Czinski is trying really hard to be perfect. If she manages it, people won't peer beyond the surface, or ask hard questions about her past. She's learned to substitute causes for relationships, and it's working just fine . . . until Shane Cavendish strolls into her math class. He's a little antisocial, a lot beautiful, and everything she never knew she always wanted.
Shane Cavendish just wants to be left alone to play guitar and work on his music. He's got heartbreak and loneliness in his rearview mirror, and this new school represents his last chance. He doesn't expect to be happy; he only wants to graduate and move on. He never counted on a girl like Sage.
But love doesn't mend all broken things, and sometimes life has to fall apart before it can be put back together again. . . .
My Thoughts:
I thoroughly enjoyed this novel. It was filled with characters I was rooting for - even the villain - and had a wonderful romance.
Sage is a junior in high school. She is living with her half-Aunt after a truly horrible childhood. She is trying to be perfect, both to compensate for the things she did as a child and so that her Aunt Gabby won't send her back to group home. She has one really good friend named Ryan. She is very environmentally conscious. One of her quirks is that she won't ride in cars; she takes her bicycle everywhere. Another quirk is that she leaves supportive post-it notes on the lockers of kids who are having bad days. She has been doing this since she arrived at the school in eighth grade and gained her nickname "Princess Post-it" because of it.
But changes are on the way. She becomes fascinated with the new boy in school - Shane. Besides finding him really attractive, she is drawn to him when he draws the attention of the bullying crowd. Shane has also gone through a really tough time and just wants to be left alone to play his music and graduate from high school. Sage recognizes something in him that is like her and gradually the two become friends.
Both kids are busy rebuilding themselves into the people they want to be and trying to put difficult pasts behind them. This was a great story about taking chances on other people. I loved their romance. I also loved the Sage was finally feeling secure enough in her home situation to expand her circle of friends. I really loved her relationship with her Aunt Gabby who was supportive and understanding.
This one will become part of my high school media center collection as soon as it is available to purchase. I want my students to be able to meet these wonderful people.
Favorite Quote:
Until this moment, I didn't realize I was walking around all this time with a Shane-shaped hole inside of me.
I got this ARC from Macmillan.
You can buy your copy here.