Happy Friday everybody!!
Book Beginnings
on Friday is now hosted by
Rose City Reader
. The Friday 56 is hosted at
Freda's Voice
. Check out the links above for the rules and for the posts of the participants each week. Don't dig for your favorite book, the coolest, the most intellectual. Use the CLOSEST.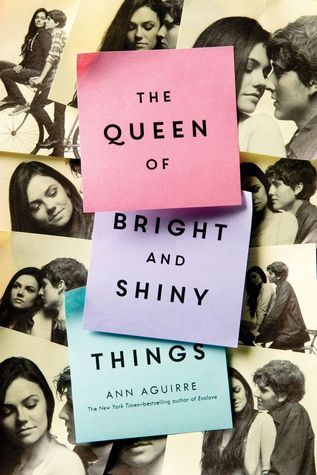 This week I am spotlighting
The Queen of Bright and Shiny Things
by Ann Aguirre. I got this young adult contemporary ARC from Macmillan. Here is the description of this April 7 release:
Sage Czinski is trying really hard to be perfect. If she manages it, people won't peer beyond the surface, or ask hard questions about her past. She's learned to substitute causes for relationships, and it's working just fine . . . until Shane Cavendish strolls into her math class. He's a little antisocial, a lot beautiful, and everything she never knew she always wanted.

Shane Cavendish just wants to be left alone to play guitar and work on his music. He's got heartbreak and loneliness in his rearview mirror, and this new school represents his last chance. He doesn't expect to be happy; he only wants to graduate and move on. He never counted on a girl like Sage.
But love doesn't mend all broken things, and sometimes life has to fall apart before it can be put back together again. . . .
Beginning:
I know what they call me. the Goth girls started it, all ripped black fishnets and heavy kohl, with chipped black nail polish and metric tons of attitude, like any of that makes them cooler than anyone else.
Friday 56:
I can't believe that she's just telling me this. It seems so unlike Lila, but then I realize I really don't know her. For the first two years, I saw the side she showed while running with the beautiful people, and then the new version she created to fit in with the goth crew.