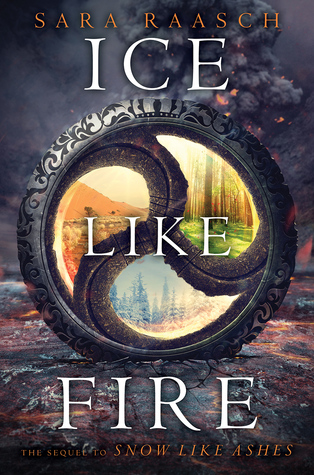 Ice Like Fire
Author:
Sara Raasch
Series:
Snow Like Ashes (Book 2)
Publication:
Balzer + Bray (October 13, 2015)
Description:
Game of Thrones
meets
Graceling
in this thrilling fantasy filled with shocking twists and heart-pounding action, the highly anticipated sequel to
Snow Like Ashes
. This action-packed series is perfect for fans of
An Ember in the Ashes
and
A Court of Thorns and Roses
.
It's been three months since the Winterians were freed and Spring's king, Angra, disappeared—thanks largely to the help of Cordell.
Meira just wants her people to be safe. When Cordellan debt forces the Winterians to dig their mines for payment, they unearth something powerful and possibly dangerous: Primoria's lost chasm of magic. Theron sees this find as an opportunity—with this much magic, the world can finally stand against threats like Angra. But Meira fears the danger the chasm poses—the last time the world had access to so much magic, it spawned the Decay. So when the king of Cordell orders the two on a mission across the kingdoms of Primoria to discover the chasm's secrets, Meira plans on using the trip to garner support to keep the chasm shut and Winter safe—even if it means clashing with Theron. But can she do so without endangering the people she loves?
Mather just wants to be free. The horrors inflicted on the Winterians hang fresh and raw in Jannuari—leaving Winter vulnerable to Cordell's growing oppression. When Meira leaves to search for allies, he decides to take Winter's security into his own hands. Can he rebuild his broken Kingdom and protect them from new threats?
As the web of power and deception is woven tighter, Theron fights for magic, Mather fights for freedom—and Meira starts to wonder if she should be fighting not just for Winter but for the world.
My Thoughts:
This is the middle book in the trilogy that began with SNOW LIKE ASHES. As a middle book, we are left searching for resolution. However, the journey is exciting and we get a chance to see three of the other kingdoms on Primordia.
The story begins in Winter, Meira and her fellow survivors from Angra's captivity are back home trying to restore a country that has been neglected for at least sixteen years. They are being helped by King Noam of Cordell. His son Theron was once engage to Meira and was a fellow prisoner of Angra. He and Meira are at odds because they want different things for Winter. Theron wants magic to be available to everyone and Meira wants to end all magic.
King Noam is demanding repayment for his assistance and is requiring Winter to reopen its mines. He is really looking for a chasm of magic that he believes is hidden in one of Winter's mines. When a door to the chasm is discovered, it is guarded by three locks.
Clues lead to three neighboring kingdoms. So Meira, Theron, and their companions set off to find the keys. Meira is also looking for allies in her quest to throw King Noam out of her country. Theron is looking for rulers to sign a treaty to foster peace.
They have all sorts of adventures and Meira learns that on old enemy isn't nearly dead enough and is still creating havoc. After reading this one, which leaves our heroes in very perilous positions, fans will be very, very eager to read the final book in this trilogy.
Favorite Quote:
That's what I want, a wish I didn't even know I fostered—to rule Winter without needing magic at all. To be queen, to by myself, without having to depend on the unpredictable, frightening powerful magic that camps in my chest.
I got this ARC from Edelweiss.
You can buy your copy here
.