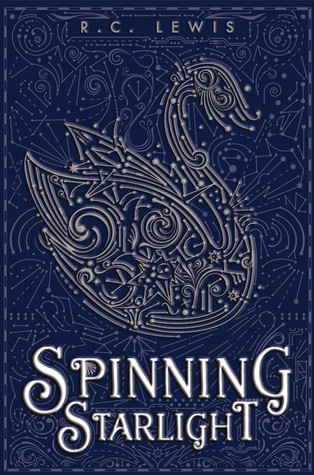 Spinning Starlight
Author:
R. C. Lewis
Publication:
Disney-Hyperion (October 6, 2015)
Description:
Sixteen-year-old heiress and paparazzi darling Liddi Jantzen hates the spotlight. But as the only daughter in the most powerful tech family in the galaxy, it's hard to escape it. So when a group of men shows up at her house uninvited, she assumes it's just the usual media-grubs. That is, until shots are fired.
Liddi escapes, only to be pulled into an interplanetary conspiracy more complex than she ever could have imagined. Her older brothers have been caught as well, trapped in the conduits between the planets. And when their captor implants a device in Liddi's vocal cords to monitor her speech, their lives are in her hands: One word, and her brothers are dead.
Desperate to save her family from a desolate future, Liddi travels to another world, where she meets the one person who might have the skills to help her bring her eight brothers home-a handsome dignitary named Tiav. But without her voice, Liddi must use every bit of her strength and wit to convince Tiav that her mission is true. With the tenuous balance of the planets deeply intertwined with her brothers' survival, just how much is Liddi willing to sacrifice to bring them back?
Haunting and mesmerizing, this retelling of Hans Christian Andersen's
The Wild Swans
fuses all the heart of the classic tale with a stunning, imaginative world in which a star-crossed family fights for its very survival.
My Thoughts:
Liddi Jantzen is an orphan who is the heir to the largest technology company in the galaxy. That makes her the darling of the paparazzi of her day who follow her around with tiny little flying cameras. She has eight older brothers who are all technological geniuses and who love her and want to take care of her. She feels that she lacks their technological genius.
One day she comes home from the latest social event and is almost kidnapped by armed intruders at her home. She escapes to the company headquarters where she learns that her brothers have all disappeared and that the current CEO has a plan that will make their disappearance permanent. She implants Liddi with a device that keeps her silent. In fact, if she talks, she is told her brothers will die.
Liddi escapes to the legendary eighth planet and discovers that the CEO's plan could be completely catastrophic for that world and the seven that Liddi is familiar with. There she meets Tiav who is trained to use the portals that those on the seven worlds use for transportation. Liddi learns so much that she didn't know about those portals and about the greater world around her. She has to convince Tiav to help her and learn more about her own strengths and talents if she is to find a way to save her brothers.
I loved this story which combines a fairy tale with a science fiction world. I thought the world building was excellent and I really loved Liddi. She was a little insecure but she had such a strong love for her brothers that she was willing to do anything to save them.
Fans of science fiction and fans of fairy tales will enjoy the intriguing and fast-paced story.
Favorite Quote:
Even then, what makes me think I can figure it out? Checked genes, the only non-smart Jantzen in history. A waste of all the energy put into building me up. Hopeless and pointless...

I shake off the creeping doubts. It doesn't matter. Trying is what matters, because my brothers have always expected my best effort. It's all they've ever asked of me.
I got this ARC from NetGalley.
You can buy your copy here
.