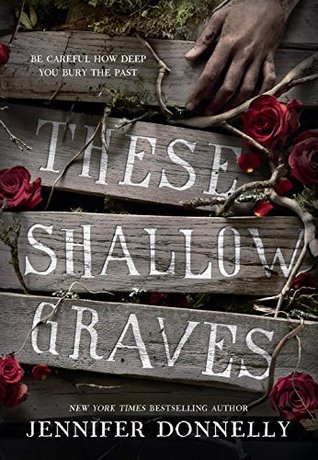 These Shallow Graves
Author:
Jennifer Donnelly
Publication:
Delacorte Press (October 27, 2015)
Description:
From Jennifer Donnelly, the critically acclaimed
New York Times
bestselling author of
A Northern Light
and
Revolution
, comes a mystery about dark secrets, dirty truths, and the lengths to which people will go for love and revenge. For fans of Elizabeth George and Libba Bray,
These Shallow Graves
is the story of how much a young woman is willing to risk and lose in order to find the truth.
Jo Montfort is beautiful and rich, and soon—like all the girls in her class—she'll graduate from finishing school and be married off to a wealthy bachelor. Which is the last thing she wants. Jo dreams of becoming a writer—a newspaper reporter like the trailblazing Nellie Bly.
Wild aspirations aside, Jo's life seems perfect until tragedy strikes: her father is found dead. Charles Montfort shot himself while cleaning his pistol. One of New York City's wealthiest men, he owned a newspaper and was a partner in a massive shipping firm, and Jo knows he was far too smart to clean a loaded gun.
The more Jo hears about her father's death, the more something feels wrong. Suicide is the only logical explanation, and of course people have started talking, but Jo's father would never have resorted to
that.
And then she meets Eddie—a young, smart, infuriatingly handsome reporter at her father's newspaper—and it becomes all too clear how much she stands to lose if she keeps searching for the truth. But now it might be too late to stop.
The past never stays buried forever. Life is dirtier than Jo Montfort could ever have imagined, and this time the truth is the dirtiest part of all.
My Thoughts:
Jennifer Donnelly has written an engaging historical mystery and coming of age story in THESE SHALLOW GRAVES.
Josephine Montfort's world changes dramatically when her father dies. Her sheltered life as the daughter of one of the first families of New York didn't prepare her for what she learns. But Jo doesn't really fit into her sheltered life. She wants to be a newspaper reporter like the famous Nelly Bly. She doesn't want to spend her life married to a rich man she doesn't love, caring for his home, and raising his children.
Jo has a handsome potential fiance in Bram Aldrich whom she has known since they were children but she has no romantic interest in him despite knowing that she should. When she meets reporter Eddie Gallagher, her future certainties are challenged. As she and Eddie investigate the murder of her father and she falls in love with him, she questions more and more the future that has been planned for her.
Eddie introduces her to parts of New York that she has never seen and people she would never have gotten to know. She becomes friends with Fairy Fay, a young woman who has been raised by the local Fagin as a pickpocket and who has outgrown it and is to be sold to a madam as a prostitute.
Jo makes discoveries that shatter what she knows of her family and her father. I had figured out who the villain was pretty early in the story and had some ideas about the secret that was being hidden but enjoyed discovering the truth along with Jo. I also enjoyed the glimpse into the 1890s for both the rich and the poor. Seeing what a woman's role and choices were made me very glad that I am living now and not then.
This was a great story that was as much a mystery as an exploration of a time in history that is thankfully past. Readers will enjoy both the mystery and the strong character of Jo Montfort who finally makes her own choices.
Favorite Quote:
"Every time I see you, it's an adventure, Jo Montfort. You're a very unusual girl," he said as she got out of the cab.

"Oh, not really. Most girls are a lot like me. Wanting answers to their questions," Jo replied. "They usually don't seek them at the morgue, however. I'll give you that."

Eddie smiled, but then turned serious. "It was a very hard night for you. I'm sorry for that. I hope you know what you've gotten yourself into. What's coming won't be easy. I doubt tonight will be the last time you cry for your father."
I got this ARC from NetGalley.
You can buy your copy here.