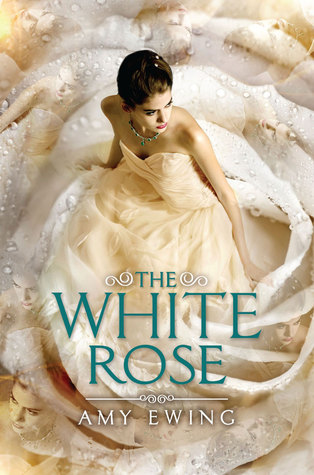 The White Rose
Author:
Amy Ewing
Series:
Jewel (Book 2)
Publication:
HarperTeen (October 6, 2015)
Description:
The compelling and gripping sequel to Amy Ewing's debut,
The Jewel
, which
BCCB
said "Will have fans of Oliver's
Delirium
, Cass's
The Selection
, and DeStefano's
Wither
breathless."
Violet is on the run—away from the Jewel, away from a lifetime of servitude, away from the Duchess of the Lake, who bought her at auction. With Ash and Raven traveling with her, Violet will need all of her powers to get her friends, and herself, out of the Jewel alive.
But no matter how far Violet runs, she can't escape the rebellion brewing just beneath the Jewel's glittering surface, and her role in it. Violet must decide if she is strong enough to rise against the Jewel and everything she has ever known.
My Thoughts:
This second book in the Jewel trilogy has our hero and heroine joining the revolution. Violet, Ash and Raven have escaped from the Lone City but have many difficulties before they reach the secret base of the White Rose. They are helped by Garnet and Lucien but still face a number of challenges getting away from the royalty and their guards including traveling through sewers and in barrels and in secret compartments.
Once they reach their sanctuary, Violet is busy learning about her powers and learning about the history of their island. Meanwhile, Ash is wondering what his role in the revolution can be since he doesn't have Violet's magical powers.
The revolutionaries are gathering people and weapons and they are under a time crunch. The best time to attack would be when the next Auction of surrogates is held in October which would be feasible. But now the royalty has moved up the Auction date to April and has begun killing surrogates even before childbirth has a chance to kill them which is reducing the number of soldiers in Violet's potential army. She had high hopes of using the surrogates to bring down the section of the city where the royals live.
A cliffhanger ending has me very eager to read the next book in this trilogy. I can't wait to see what happens next.
Favorite Quote:
The royalty take and take and it never seems to be enough for them. They steal girls to make their babies, boys to protect them, or seduce them, or serve them. But we are not objects. We are not the latest fashion or the most expensive prize. We are people.

And I'm going to help make them see that.
I got this ARC from Edelweiss.
You can buy your copy here
.