Happy Friday everybody!!
Book Beginnings
on Friday is now hosted by
Rose City Reader
. The Friday 56 is hosted at
Freda's Voice
. Check out the links above for the rules and for the posts of the participants each week. Don't dig for your favorite book, the coolest, the most intellectual. Use the CLOSEST.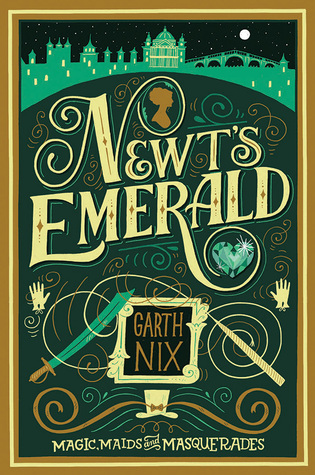 This week I am spotlighting
Newt's Emerald
by Garth Nix. I got this eARC from Edelweiss. Here is the description from Amazon:
Inspired by the works of Georgette Heyer and Jane Austen, Garth Nix's Newt's Emerald is a Regency romance with a fantasy twist. New York Times bestselling author Gail Carriger calls it "charming; quite, quite charming."

After Lady Truthful's magical Newington Emerald is stolen from her she devises a simple plan: go to London to recover the missing jewel. She quickly learns, however, that a woman cannot wander the city streets alone without damaging her reputation, and she disguises herself as a mustache-wearing man. During Truthful's dangerous journey she discovers a crook, an unsuspecting ally, and an evil sorceress—but will she find the Emerald?
Beginning:
"The door knocker has been removed," remarked Harnett, carefully surveying Lady Plathenden's house from the curtained window of the hackney. "And the drapes are drawn. Either Lady Plathenden is not in residence, or she desires onlookers to gain that impression."
Friday 56:
"He must really be ill," replied Lady Badgery. "He never cared for it much before, and your mother didn't like it at all. As for the stone's vaunted powers, she certainly never displayed them. She said it was too heavy to wear, and it felt like the proverbial millstone."