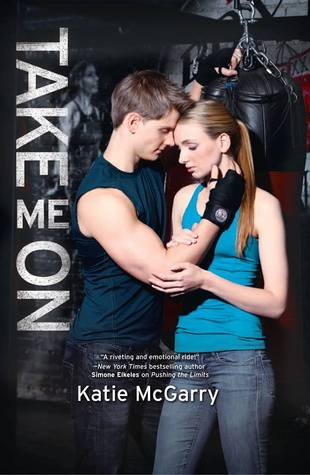 Take Me On
Author:
Katie McGarry
Series:
Pushing the Limits (Book 5)
Publication:
Harlequin Teen (May 27, 2014)
Description:
Acclaimed author Katie McGarry returns with the knockout new story of two high school seniors who are about to learn what winning really means
Champion kickboxer Haley swore she'd never set foot in the ring again after one tragic night. But then the guy she can't stop thinking about accepts a mixed martial arts fight in her honor. Suddenly, Haley has to train West Young. All attitude, West is everything Haley promised herself she'd stay away from. Yet he won't last five seconds in the ring without her help.
West is keeping a big secret from Haley. About who he really is. But helping her--fighting for her--is a shot at redemption. Especially since it's his fault his family is falling apart. He can't change the past, but maybe he can change Haley's future.
Haley and West have agreed to keep their relationship strictly in the ring. But as an unexpected bond forms between them and attraction mocks their best intentions, they'll face their darkest fears and discover love is worth fighting for.
My Thoughts:
Katie McGarry has written another intense coming of age story in TAKE ME ON.
Haley Williams's life has imploded. Her father lost his job, their house was foreclosed on, and, after spending a short time in a homeless shelter, her family is now living with her father's brother and his family. Haley's uncle is one of those verbally abusive types who also delights in setting arbitrary and inconsistent rules. Haley is constantly fighting herself to keep from defying him which could lead to her family being homeless again. In addition, Haley is dealing with an abusive ex-boyfriend who is a MMA fighter and who is threatening her brother and cousin. Haley used to be a nationally ranked kickboxer but her boyfriend's abuse has ruined her confidence in herself and her love for the sport of kickboxing.
West Young isn't having a very good year either. His feels massive guilt for the car accident that injured his sister Rachel. He is also constantly at odds with his father. West is the impulsive act first, think later type of guy. He is also the pot smoking, party boy kind of guy. His good looks and wealthy background make him a chick magnet and he doesn't turn them away. He is also a fighter who is quick to defend any insult with his fists. He has currently been expelled from his private school for fighting.
Haley and West meet when Haley is being attacked by her boyfriend's drug using younger brother. West fights but it is Haley who saves them both. Of course, that makes both West and Haley a target for the ex-boyfriend. Haley agrees to train West so that he can fight with the ex despite her fear of having anything to do with the fighting world again.
Despite Haley's determination not to get involved with another fighter, West works his way into her heart. And, for West, Haley's courage makes him fall for her too. A common theme is McGarry's books is that love heals, love strengthens, and love empowers. Life situations may still be awful but love gives the strength to get through them.
I enjoyed this story very much. I liked the chance to revisit some favorite characters from earlier stories especially Abby who really needs a book of her own.
Favorite Quote:
I lean so that our foreheads almost touch. "I mean it. I'm lots of things, but I'm not him."

"I know," she whispers. "But it doesn't make falling any less frightening."

My nose drifts along hers and the pull I've been fighting strengthens. "Don't think of it as falling. Think of it as jumping—with me."

I feel the curve of her smile beneath my lips/

"How is jumping better?"

"Falling happens. Jumping you choose." And you chose to do it with me.
I got this eARC from NetGalley.
You can buy your copy here
.