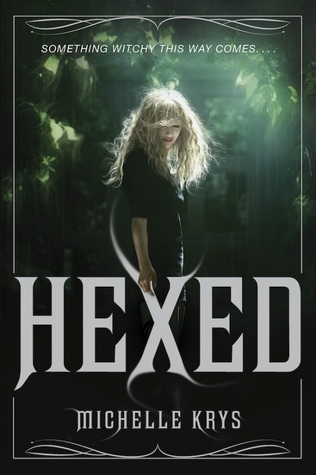 Hexed
Author:
Michelle Krys
Publication:
Delacorte Press (June 10, 2014)
Description:
It's Bring it On meets The Craft in this spellbinding witchy series debut.
A stolen book. A deadly plan. A destiny discovered.
If high school is all about social status, Indigo Blackwood has it made. Sure, her quirky mom owns an occult shop, and a nerd just won't stop trying to be her friend, but Indie is a popular cheerleader with a football-star boyfriend and a social circle powerful enough to ruin everyone at school. Who wouldn't want to be her?
Then a guy dies right before her eyes. And the dusty old family Bible her mom is freakishly possessive of is stolen. But when a frustratingly sexy stranger named Bishop enters Indie's world, she learns that her destiny involves a lot more than pom-poms and parties. If she doesn't get the Bible back, every witch on the planet will die. And that's seriously bad news for Indie, because according to Bishop,
she's
a witch too.
Suddenly forced into a centuries-old war between witches and sorcerers, Indie is about to uncover the many dark truths about her life—and a future unlike any she ever imagined on top of the cheer pyramid.
My Thoughts:
HEXED begins with an ordinary high school cheerleader named Indigo Blackwood who finds her life taking a surprising twist. Her mom owns an occult shop but that certainly doesn't mean the Indie believes in any of that witchy stuff. But then a family Bible that her mother is really concerned about disappears and Indie is questioned by strange men with some really freaky talents.
Enter Bishop who has come to tell Indie that she is a witch and that the freaky guys are sorcerers who would like to see all witches dead. The missing Bible has a spell that will let the sorcerers kill the witches but it is sealed with a spell that the bad guys are sure Indie knows.
I didn't really like Indie very well when the book began. I thought she was too determined to be part of the school in-crowd. I didn't like the way she treated her neighbor Paige. I didn't like the way she kept hanging on to football hero boyfriend Devon despite their lack of things in common. It took betrayal by her former best friend Bianca and by Devon before she seems to see the light.
I liked her relationship with Bishop because they were both so snarky to each other. I could see a relationship coming as he teaches her to use her magic. The story had lots of twists and turns and some really sad moments. And I really wasn't expecting a cliffhanger ending...
Fans of the paranormal will enjoy this fast-paced story and love the dialog between Indie and Bishop.
Favorite Quote:
Panic surges through me. They've got Mom, and I'm trapped in some invisible mime-box.
I got this eARC from NetGalley.
You can buy your copy here
.