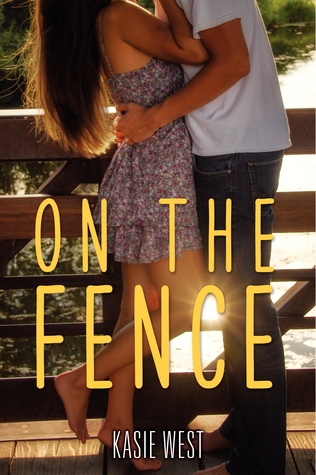 On the Fence
Author:
Kasie West
Publication:
HarperTeen (July 1, 2014)
Description:
She's a tomboy. He's the boy next door.
With three older brothers, Charlotte Reynolds, aka Charlie, has always been more comfortable calling the shots on a basketball court than flirting with the opposite sex. So when her police officer dad demands she get a summer job to pay for the latest in a long line of speeding tickets, she's more than a little surprised to find herself working at a chichi boutique and going out with a boy who has never seen her tear it up in a pickup game. Charlie seeks late-night refuge in her backyard, talking out her problems with her neighbor and honorary fourth brother, Braden, sitting back-to-back against the fence that separates them. Braden may know her better than anyone. But there's a secret Charlie's keeping that even he hasn't figured out—she's fallen for him. Hard. She knows what it means to go for the win, but if spilling her secret means losing him for good, the stakes just got too high.
On the Fence
is a sweet and satisfying read about finding yourself and finding love where you least expect it.
My Thoughts:
ON THE FENCE was a sweet romance with great characters. Charlie Reynolds has three older brothers. Her dad is a cop. Her mother died when she was just six. Charlie is mostly okay growing up competing and playing with her brothers and her next door neighbor Braden who is like another brother to her. However, she is plagued with nightmares about the car accident that killed her mother.
When she gets her latest speeding ticket, her dad tells her she has to get a job to pay for the ticket. She finds a job in a very unlikely location. She gets a job in a clothing boutique run by a woman who sees auras. Through her job, she meets other girls and finds out that they aren't so different than she is. She also has to dress in a more feminine way which she finds out isn't as horrible as she had thought.
As the summer progresses, she finds her relationship with Braden changing. They have taken to meeting at night by the fence that separates their yards. Sitting back to back, each on their own side of the fence, they share things they don't talk about in the daytime. Charlie finds herself thinking about Braden as more boyfriend than brother. But she doesn't know if Braden feels the same way.
I thought this was a great story. I loved the relationship the Charlie had with her brothers. I ached with her as she tried to figure out how to be a girl with no female role model. I understood her wonder about what her relationship with her mother would have been like. I really liked her relationship with Braden.
Fans of sports and romance will enjoy this story.
Favorite Quote:
Every inch of me felt hot. I needed to stop the way my body was reacting to Braden lately. We were friends. To close to ever want to explore these stupid new reactions and risk losing him forever. I stood and practically ran out of the house.
I got this eARC from Edelweiss.
You can buy your copy here
.