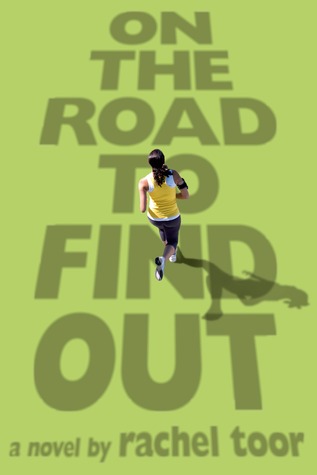 On the Road to Find Out
Author:
Rachel Toor
Publication:
Farrar, Straus and Giroux (BYR) (June 10, 2014)
Description:
On New Year's Day, Alice Davis goes for a run. Her first ever. It's painful and embarrassing, but so was getting denied by the only college she cares about. Alice knows she has to stop sitting around and complaining to her best friend, Jenni, and her pet rat, Walter, about what a loser she is. But what doesn't know is that by taking those first steps out the door, she is setting off down a road filled with new challenges—including vicious side stitches, chafing in unmentionable places, and race-paced first love—and strengthening herself to endure when the going suddenly gets tougher than she ever imagined, in
On the Road to Find Out
by Rachel Toor.
My Thoughts:
I really enjoyed ON THE ROAD TO FIND OUT. Alice Davis is used to success. She's number one in her class. But when she is rejected from Yale, her only choice college, she feels like a failure. It throws her off her game and she obsesses about her failure to her best friend Jenni and her pet rat Walter. They are her only confidants.
So Alice makes a New Year's Resolution to run. It starts out badly for her but she doesn't let herself quit. Running leads her to expanding her world. She faces a number of challenges but meets new people, including a boy who is also a runner, and learns some things that get her out of her self-absorption. The story teaches the reader a lot about running and the mindset of runners.
I will admit that I cried when Alice met her biggest challenge and I cheered for her when she made her speech as valedictorian of her class. Watching Alice grow and change was an engaging experience. I couldn't put the book down.
Favorite Quote:
"I am going to start running."

Jenni's eyes got big for a moment and she blinked a few times, and then, because she always wants to be positive and supportive, she said, "Great idea, Al!"

It was, I admit, an odd choice. I'm basically lazy. I don't like to sweat. I get annoyed with the rah-rah jocks and am suspicious of anything that smells of team spirit.
I got this book from Macmillan.
You can buy your copy here
.