Happy Friday everybody!!
Book Beginnings on Friday is now hosted by Rose City Reader.
The Friday 56
is hosted at
Freda's Voice. Check out the links above for the rules and for the posts of the participants each week.
Don't dig for your favorite book, the coolest, the most intellectual. Use the CLOSEST.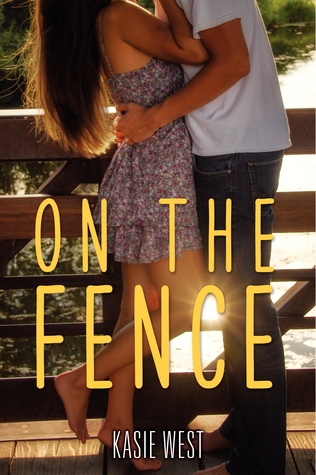 This week I am spotlighting On the Fence by Kasie West. I got this eARC from Edelweiss. Here is the description of this July 1 release:
She's a tomboy. He's the boy next door.

With three older brothers, Charlotte Reynolds, aka Charlie, has always been more comfortable calling the shots on a basketball court than flirting with the opposite sex. So when her police officer dad demands she get a summer job to pay for the latest in a long line of speeding tickets, she's more than a little surprised to find herself working at a chichi boutique and going out with a boy who has never seen her tear it up in a pickup game. Charlie seeks late-night refuge in her backyard, talking out her problems with her neighbor and honorary fourth brother, Braden, sitting back-to-back against the fence that separates them. Braden may know her better than anyone. But there's a secret Charlie's keeping that even he hasn't figured out—she's fallen for him. Hard. She knows what it means to go for the win, but if spilling her secret means losing him for good, the stakes just got too high.

On the Fence is a sweet and satisfying read about finding yourself and finding love where you least expect it.
Beginning:
The engine whined against my attempt to go faster. The yellow lines of the road went by on my left in a blur.
Friday 56:
"Sore loser," I coughed under my breath. He was just like my brothers—he hated to lose.