Teaser Tuesdays is a weekly bookish meme, hosted by MizB of
Should Be Reading
. Anyone can play along! Just do the following:
Open to a random page
Share two (2) "teaser" sentences from somewhere on that page
BE CAREFUL NOT TO INCLUDE SPOILERS! (make sure that what you share doesn't give too much away! You don't want to ruin the book for others!)
Share the title and author, too, so that other TT participants can add the book to their TBR Lists if they like your teasers!
Teaser:
But as much as I'm dying to do it, gouging Bianca's eyes out with my Maybelline Great Lash mascara brush probably won't improve the situation, so I laugh too.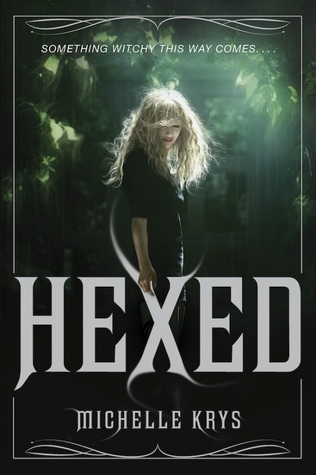 This week my teaser comes from
Hexed
by Michelle Krys. I got this eARC from NetGalley. Here is the description of this June 10 release:
It's Bring it On meets The Craft in this spellbinding witchy series debut.

A stolen book. A deadly plan. A destiny discovered.

If high school is all about social status, Indigo Blackwood has it made. Sure, her quirky mom owns an occult shop, and a nerd just won't stop trying to be her friend, but Indie is a popular cheerleader with a football-star boyfriend and a social circle powerful enough to ruin everyone at school. Who wouldn't want to be her?

Then a guy dies right before her eyes. And the dusty old family Bible her mom is freakishly possessive of is stolen. But when a frustratingly sexy stranger named Bishop enters Indie's world, she learns that her destiny involves a lot more than pom-poms and parties. If she doesn't get the Bible back, every witch on the planet will die. And that's seriously bad news for Indie, because according to Bishop, she's a witch too.

Suddenly forced into a centuries-old war between witches and sorcerers, Indie is about to uncover the many dark truths about her life—and a future unlike any she ever imagined on top of the cheer pyramid.