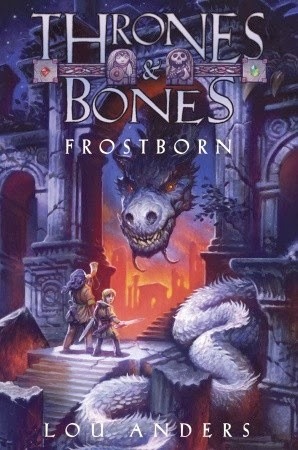 Frostborn
Author:
Lou Anders
Series:
Thrones and Bones (Book 1)
Publication:
Crown Books for Young Readers (August 5, 2014)
Description:
Fantasy fans of Rick Riordan's Percy Jackson and John Flanagan's Ranger's Apprentice series will embrace this first novel in an adventure-filled, Viking-inspired series by a debut author.
Meet Karn. He is destined to take over the family farm in Norrøngard. His only problem? He'd rather be playing the board game Thrones and Bones.
Enter Thianna. Half human, half frost giantess. She's too tall to blend in with other humans but too short to be taken seriously as a giant.
When family intrigues force Karn and Thianna to flee into the wilderness, they have to keep their sense of humor and their wits about them. But survival can be challenging when you're being chased by a 1,500-year-old dragon, Helltoppr the undead warrior and his undead minions, an evil uncle, wyverns, and an assortment of trolls and giants.
Readers will embark on a sweeping epic fantasy as they join Karn and Thianna on a voyage of discovery.
Antics and hair-raising escapades abound in this fantasy adventure as the two forge a friendship and journey to unknown territory. Their plan: to save their families from harm.
Debut novelist Lou Anders has created a rich world of over twenty-five countries inhabited by Karn, Thianna, and an array of fantastical creatures, as well as the Thrones and Bones board game.
My Thoughts:
FROSTBORN was a great middle grade adventure novel that mines Viking culture for its background. Karn Karlundsson is a twelve-year-old farmboy who is heir to his father's large farm. Karn, however, is more interested in playing the board game Thrones and Bones and dreaming about far off places. He meets Thianna who is half frost giant and half human when his father meets the frost giants to trade. Thianna wants to think of herself as only a frost giant and not have anything to do with the humans she thinks are small and weak.
The two kids do become friends which is a good thing because both of them have enemies who wish them harm. Thianna is constantly bullied by Thrudgelmir who doesn't think that she should be considered a giant. Karn's enemy is more subtle. His Uncle Ori is jealous that Karn will be inheriting the prosperous farm despite the fact that he and Karn's father are twins.
Thianna also has another enemy. A soldier named Sydia is searching for Thianna's mother and the object that she stole when she ran away. Thianna has the object but doesn't know what it is. She only knows that it was her mother's and she doesn't want to give it to Sydia.
Thianna goes on the run when Sydia threatens her family; Karn goes on the run when his uncle tricks him into battling Helltopper. When his father steps in and is turned to stone, Ori convinces Karn that he will be accused of killing his father. The two kids run separately but do find each other and each helps the other survive all sorts of dangerous situations. Both kids use the strengths they have and develop new ones as they travel. I really liked their battle with Orm who is an especially large dragon who guards an abandoned city because they had to rely on their brains to find a solution.
Fans of adventure will enjoy this story.
Favorite Quote:
"Sydia, her two lackeys, three draug, Thrudgelmir," Karn ticked them off on his fingers. "That's a lot of enemies between us."
I got this eARC from NetGalley.
You can buy your copy here
.