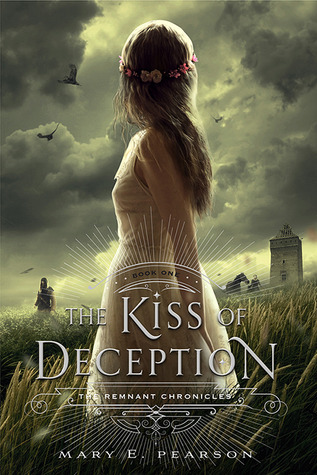 The Kiss of Deception
Author:
Mary E. Pearson
Series:
Remnant Chronicles (Book 1)
Publication:
Henry Holt and Co. (BYR) (July 8, 2014)
Description:
In a society steeped in tradition, Princess Lia's life follows a preordained course. As First Daughter, she is expected to have the revered gift of sight—but she doesn't—and she knows her parents are perpetrating a sham when they arrange her marriage to secure an alliance with a neighboring kingdom—to a prince she has never met.
On the morning of her wedding, Lia flees to a distant village. She settles into a new life, hopeful when two mysterious and handsome strangers arrive—and unaware that one is the jilted prince and the other an assassin sent to kill her. Deception abounds, and Lia finds herself on the brink of unlocking perilous secrets—even as she finds herself falling in love.
The Kiss of Deception
is the first book in Mary E. Pearson's Remnant Chronicles.
My Thoughts:
THE KISS OF DECEPTION was a breath-taking beginning to an epic fantasy series. Lia, who is First Daughter but without the First Daughter's gifts, runs away on the morning of her wedding rather than become a political pawn of her father's. She flees with her good friend Pauline to a seaside town where she works in a tavern.
Lia is pursued by the prince she rejected (but has never met) and an assassin from Venda who wants her dead to prevent an sort of alliance between the prince's country and Lia's. We get the story from the viewpoint of both the assassin and the prince as well as from Lia's point of view. The two young men come to the tavern and introduce themselves as Rafe and Caden. We also get points of view from Rafe and Caden. It took until about 2/3 of the book to find out which of the young men was the assassin and which was the prince.
The last third of this story has Lia captured by the assassin who is determined to bring her back to Venda to his political leader. Along the way Lia sees all sorts of country she has never seen, suffers hardships, and meets and learns from people along the way. Lia's world has a history and a magic that she is just learning.
The story was filled with action, adventure, magic and romance. It is set in a well-crafted world. I can't wait to read the next stories set in this world.
Favorite Quote:
He was probably home now, wherever that was, resuming the life he once had. I understand about duty. But did he still think about me? Did he see me in his dreams the way I saw him? Did he relive our moments together the way I did? Then like some dark burrowing vermin, other thoughts would eat through me and I'd wonder, why didn't he try to change my mind? Why did he let me go so easily? Was I just one more girl on the road from here to there, another summer dalliance, something to be bragged about in a tavern around a table of ale? If Pauline could be fooled, could I be too?
I got this ARC from Macmillan.
You can buy your copy here
.