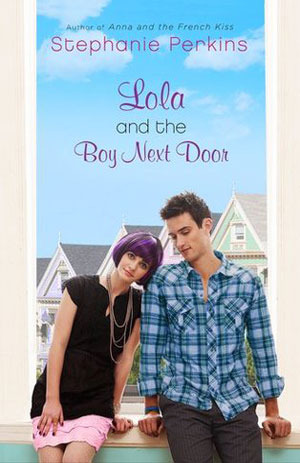 Lola and the Boy Next Door
Author:
Stephanie Perkins
Publication:
Dutton Juvenile (September 29, 2011)
Description:
In this companion novel to Anna and the French Kiss, two teens discover that true love may be closer than they think
Budding designer Lola Nolan doesn't believe in fashion . . . she believes in costume. The more expressive the outfit - more sparkly, more fun, more wild - the better. But even though Lola's style is outrageous, she's a devoted daughter and friend with some big plans for the future. And everything is pretty perfect (right down to her hot rocker boyfriend) until the dreaded Bell twins, Calliope and Cricket, return to the neighborhood.
When Cricket - a gifted inventor - steps out from his twin sister's shadow and back into Lola's life, she must finally reconcile a lifetime of feelings for the boy next door.
My Thoughts:
Lola is a unique character. She is a budding fashion designer who chooses to dress herself in costumes. Her fashion style is unique, sparkly, and memorable. But she is also a good daughter to her two dads and a good friend to her best friend Lindsey. She is dating an older (22) man who is a singer and guitar player in a rock band despite the fact that she was only 16 when she began dating him. She is sure that he is The One.
But then the family who used to live next door, including Calliope and Cricket Bell, move back. Calliope is an up and coming Olympic hopeful in figure skating and the family, including her twin brother Cricket, have been moving to get her the best coaching and opportunities. Lola used to be friends with Cricket and the friendship had turned to romance before Calliope threw a wrench in the works and caused Lola and Cricket to separate. Leaving both Lola and Cricket with broken hearts. Now that Cricket is back Lola is really confused about which boy she really loves and who she really is.
This story was a really angst-filled one as Lola tries to balance her relationship with her boyfriend Max and her best friend Cricket. She also has to deal with family issues as her birth mother - formerly alcoholic, drug dependent, and homeless - moves in with her and her parents while waiting for an apartment to open up. Lola's birth mother is the younger sister of one of her dads.
Since this is a companion novel to ANNA AND THE FRENCH KISS, we also get to see how Anna and Étienne's relationship is progressing. Lola is constantly comparing her relationship to theirs.
This was a nice story about a quirky girl and the boy next door.
Favorite Quote:
What DO I want? The answers are murky and unreadable, though it's clear I don't want another broken heart. Not his and certainly not mine. He needs to stay away.

I don't want him to stay away.
This one is from my TBR mountain.
You can buy your copy here
.