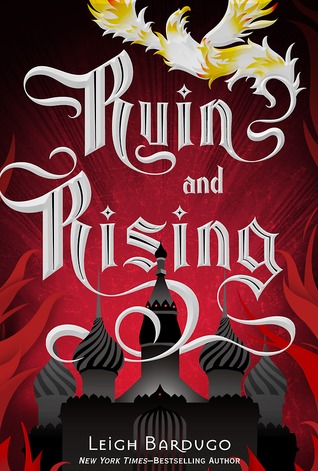 Ruin and Rising
Author:
Leigh Bardugo
Series:
Grisha Trilogy (Shadow and Bone) (Book 3)
Publication:
Henry Holt and Co. (BYR); First Edition edition (June 17, 2014)
Description:
The capital has fallen. The Darkling rules Ravka from his shadow throne.
Now the nation's fate rests with a broken Sun Summoner, a disgraced tracker, and the shattered remnants of a once-great magical army.
Deep in an ancient network of tunnels and caverns, a weakened Alina must submit to the dubious protection of the Apparat and the zealots who worship her as a Saint. Yet her plans lie elsewhere, with the hunt for the elusive firebird and the hope that an outlaw prince still survives.
Alina will have to forge new alliances and put aside old rivalries as she and Mal race to find the last of Morozova's amplifiers. But as she begins to unravel the Darkling's secrets, she reveals a past that will forever alter her understanding of the bond they share and the power she wields. The firebird is the one thing that stands between Ravka and destruction—and claiming it could cost Alina the very future she's fighting for.
Ruin and Rising
is the thrilling final installment in Leigh Bardugo's Grisha Trilogy.
My Thoughts:
RUIN AND RISING was a heart-wrenching and satisfying conclusion to the Grisha Trilogy. It was filled with action, adventure, danger, hope and heartbreak.
Alina has to find the third of Morozova's amplifiers if she wants to have any chance to defeat the Darkling. She and Mal and a small group of Grisha survivors need to look for the legendary firebird while staying out of the hands of the Darkling who will do anything to stop them.
Alina is torn between her love for Mal, her duty to Ravka which might mean forging an alliance with Nikolai, and her strange connection to the Darkling. She learns all sorts of secrets as she journeys and most of all she needs to learn the secrets of her own heart.
The writing was lush, lyrical, and page-turning. The emotions were very intense. And the conclusion was very satisfying. I'll admit I shed some tears along the way.
Favorite Quote:
He was right. I knew that. Whatever fragile, lovely thing had existed between us belong to two other people—people who weren't bound by duty and responsibility—and I wasn't sure what remained. And still I wanted him to put his arms around me, I wanted to hear him whisper my name in the dark, I wanted to ask him to stay.
I bought this one and got is autographed.
You can buy your copy here
.