Happy Friday everybody!!
Book Beginnings on Friday is now hosted by Rose City Reader.
The Friday 56
is hosted at
Freda's Voice. Check out the links above for the rules and for the posts of the participants each week.
Don't dig for your favorite book, the coolest, the most intellectual. Use the CLOSEST.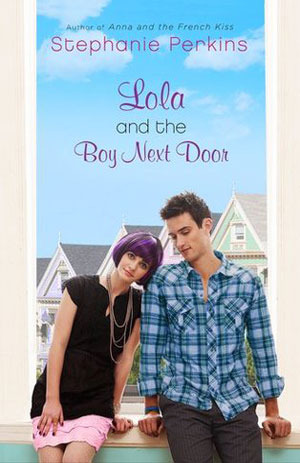 This week I am spotlighting Lola and the Boy Next Door by Stephanie Perkins. I read Anna and the French Kiss, enjoyed it, and thought I'd like to read something else by the author. But this one has been sitting on my TBR mountain since September of 2011. It just kept getting set aside for more urgent or interesting titles.
Here is the description:
In this companion novel to Anna and the French Kiss, two teens discover that true love may be closer than they think

Budding designer Lola Nolan doesn't believe in fashion . . . she believes in costume. The more expressive the outfit - more sparkly, more fun, more wild - the better. But even though Lola's style is outrageous, she's a devoted daughter and friend with some big plans for the future. And everything is pretty perfect (right down to her hot rocker boyfriend) until the dreaded Bell twins, Calliope and Cricket, return to the neighborhood.

When Cricket - a gifted inventor - steps out from his twin sister's shadow and back into Lola's life, she must finally reconcile a lifetime of feelings for the boy next door.
Beginning:
I have three simple wishes. They're really not too much to ask.
Friday 56:
I throw up my hands, which I've been mehndi-ing with a Bic pen. "Do you have any idea how hard it is to park in this city?"