Teaser Tuesdays is a weekly bookish meme, hosted by MizB of
Should Be Reading
. Anyone can play along! Just do the following:
Open to a random page
Share two (2) "teaser" sentences from somewhere on that page
BE CAREFUL NOT TO INCLUDE SPOILERS! (make sure that what you share doesn't give too much away! You don't want to ruin the book for others!)
Share the title and author, too, so that other TT participants can add the book to their TBR Lists if they like your teasers!
Teaser:
She was armed only with her determination. But she carried something else.

It was that something else they were after. It couldn't do her much good here, but back home it could change her world. For good or for ill. Mostly for ill, which was why she had taken it, and why they had followed her.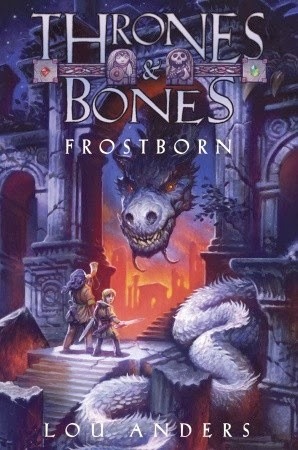 This week my teaser comes from
Frostborn
by Lou Anders. Anders is a debut author and this book begins a series. I got this eARC from NetGalley. Here is the description of this August 5 release.
Fantasy fans of Rick Riordan's Percy Jackson and John Flanagan's Ranger's Apprentice series will embrace this first novel in an adventure-filled, Viking-inspired series by a debut author.

Meet Karn. He is destined to take over the family farm in Norrøngard. His only problem? He'd rather be playing the board game Thrones and Bones.

Enter Thianna. Half human, half frost giantess. She's too tall to blend in with other humans but too short to be taken seriously as a giant.

When family intrigues force Karn and Thianna to flee into the wilderness, they have to keep their sense of humor and their wits about them. But survival can be challenging when you're being chased by a 1,500-year-old dragon, Helltoppr the undead warrior and his undead minions, an evil uncle, wyverns, and an assortment of trolls and giants.

Readers will embark on a sweeping epic fantasy as they join Karn and Thianna on a voyage of discovery.

Antics and hair-raising escapades abound in this fantasy adventure as the two forge a friendship and journey to unknown territory. Their plan: to save their families from harm.

Debut novelist Lou Anders has created a rich world of over twenty-five countries inhabited by Karn, Thianna, and an array of fantastical creatures, as well as the Thrones and Bones board game.