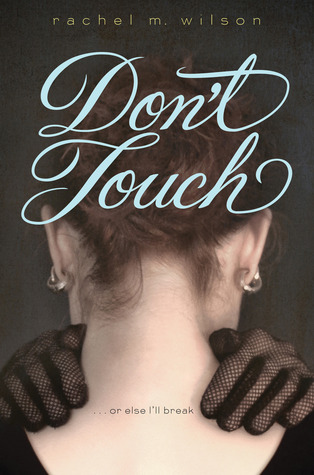 Don't Touch
Author:
Rachel M. Wilson
Publication:
HarperTeen (September 2, 2014)
Description:
Step on a crack, break your mother's back,
Touch another person's skin, and Dad's gone for good . . .
Caddie has a history of magical thinking—of playing games in her head to cope with her surroundings—but it's never been this bad before.
When her parents split up,
Don't touch
becomes Caddie's mantra. Maybe if she keeps from touching another person's skin, Dad will come home. She knows it doesn't make sense, but her games have never been logical. Soon, despite Alabama's humidity, she's covering every inch of her skin and wearing evening gloves to school.
And that's where things get tricky. Even though Caddie's the new girl, it's hard to pass off her compulsions as artistic quirks. Friends notice things. Her drama class is all about interacting with her scene partners, especially Peter, who's auditioning for the role of Hamlet. Caddie desperately wants to play Ophelia, but if she does, she'll have to touch Peter . . . and kiss him. Part of Caddie would love nothing more than to kiss Peter—but the other part isn't sure she's brave enough to let herself fall.
From rising star Rachel M. Wilson comes a powerful, moving debut novel of the friendship and love that are there for us, if only we'll let them in.
My Thoughts:
Caddie has a problem. She has a history of magical thinking that she uses to cope with a world spiraling out of control. She knows it doesn't make sense, but she believes that if she can keep from touching anything, her father and mother will not divorce. They will stay together and love each other. Caddies has been doing this long enough that it has become impossible for her to touch or be touched.
Now, her father has left their home and Caddie has started a new school year at the Academy - an Arts school - where she tries out for and gets the lead in
Hamlet
. She also reconnects with her childhood friend Mandy who is also a theater student and becomes part of Mandy's circle of friends. Among them is Peter who is cast as Hamlet.
Caddie would very much like to have a relationship with Peter but that is hard to do when she can't touch him. It is getting harder and harder for her to keep her touch phobia a secret from Mandy and her other friends.
I liked Caddie and ached for her. I could feel her sense of powerlessness and her desire to get some kind of control in her life. I liked that Peter who also had parents who had divorced and who didn't handle it well either. I liked that he had come to some acceptance of the situation and had gotten his anger issues under control. I liked his patience with Caddie and his willingness to offer her support.
I liked watching Caddie work through her problems while she studied and rehearsed for her role as Ophelia. Fans of Hamlet will enjoy watching these young actors put on the play. It might even convince some of them to read or re-read the play.
I recommend this one for thoughtful readers of all ages.
Favorite Quote:
Don't touch protects me from pain. Like an overzealous bodyguard whose last client died shaking hands. There are so many things in the world that can make you hurt, and people—people do it best. It I can't touch them, they can't hurt me.
I got this eARC through Edelweiss.
You can buy your copy here
.