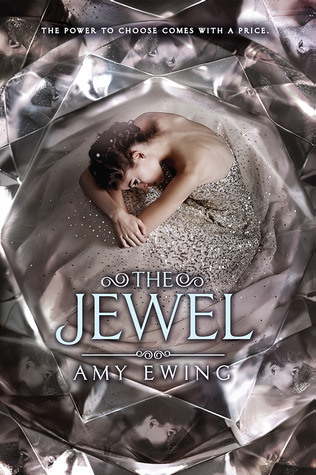 The Jewel
Author:
Amy Ewing
Series:
Jewel Series (Book 1)
Publication:
HarperTeen (September 2, 2014)
Description:
The Selection
meets
The Handmaid's Tale
in this darkly riveting debut filled with twists and turns, where all that glitters may not be gold.
The Jewel means wealth, the Jewel means beauty—but for Violet, the Jewel means servitude. Born and raised in the Marsh, Violet finds herself living in the Jewel as a servant at the estate of the Duchess of the Lake. Addressed only by her number—#197—Violet is quickly thrown into the royal way of life. But behind its opulent and glittering facade, the Jewel hides its cruel and brutal truth, filled with violence, manipulation, and death.
Violet must accept the ugly realities of her life . . . all while trying to stay alive. But before she can accept her fate, Violet meets a handsome boy who is also under the Duchess's control, and a forbidden love erupts. But their illicit affair has consequences, which will cost them both more than they bargained for. And toeing the line between being calculating and rebellious, Violet must decide what, and who, she is willing to risk for her own freedom.
My Thoughts:
THE JEWEL takes place in a dystopian society where the royalty can't have children and have surrogates taken the poorest area to bear their children. Violet is one of those surrogates who was taken from her family at age twelve and groomed for her role. She was taught to use some magical abilities that came at the cost of pain and hemorrhaging. When she was sixteen she was sold.
Now Violet finds herself in the home of the Duchess of the Lake. She also finds herself deep in a society that she doesn't understand. The royals all have their own political agendas, feuds and alliances. Violet is completely out of her depth. Then she meets Ash who has been purchased as a companion to the Duchess's niece and the two fall in love. Both are slaves and both are risking everything to be together.
Violet is also involved in another conspiracy spear-headed by one of the ruler's ladies-in-waiting. He has promised to get her out of the Jewel and into a new life. But she doesn't want to go without her best friend who has also been sold as a surrogate to another of the ruling families.
The setting was interesting. It was a walled city built with five rings. The Jewel where the royals live is the center; the outer ring where Violet lived is where the poor but fertile are from. The contrast between the lives of excess and privilege of the royals versus the poverty of those who live in the outer ring couldn't help but bring tension to the story.
I liked Violet and Ash and felt very sorry for them. They were essentially powerless and at the mercy of capricious owners. The cliffhanger, and surprising, ending makes me eager for another book in this series.
Favorite Quote:
But it's his eyes that have me pinned in place. They are a soft gray-green, and they look at me in a way I haven't been looked at since I started my life in the Jewel—like I am a girl, a person, not a surrogate. And yet, it's something more than that; they look at me in a way that makes me feel hollow and strangely buzzy.
I got this eARC from Edelweiss. You can buy your copy here.