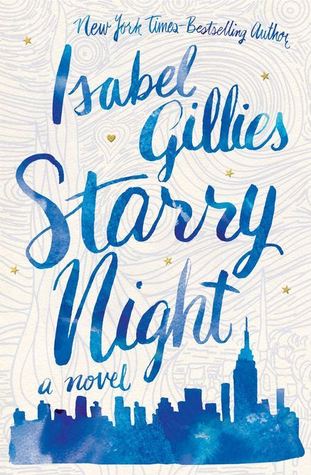 Starry Night
Author:
Isabel Gillies
Publication:
Farrar, Straus and Giroux (BYR) (September 2, 2014)
Description:
Sometimes one night can change everything. On this particular night, Wren and her three best friends are attending a black-tie party at the Metropolitan Museum of Art to celebrate the opening of a major exhibit curated by her father. An enormous wind blasts through the city, making everyone feel that something unexpected and perhaps wonderful will happen. And for Wren, that something wonderful is Nolan. With his root-beer-brown Michelangelo eyes, Nolan changes the way Wren's heart beats. In Isabel Gillies's
Starry Night,
suddenly everything is different. Nothing makes sense except for this boy. What happens to your life when everything changes, even your heart? How much do you give up? How much do you keep?
My Thoughts:
STARRY NIGHT was an entertaining story of friendship and first love. Wren is one of the turtles. She and her friends Charlie, Vati, Farah and Reagan have known each other forever. Their parents were and are in the same book club. Now they are all fifteen and growing up in their own unique ways.
It all starts at at party at the Metropolitan Museum. Wren's father is the curator. The party is featuring a number of artists including Cy Dowd. It is the kids' first formal party. Wren's older brother Oliver brings a friend Nolan Shop to the party and life changes for Wren. She is immediately smitten with Nolan and the two begin a romance. That's not the only romance that begins that night. Farah starts a romance with Cy Dowd. Reagan kisses Oliver despite knowing that Vati has had a crush on him for years.
Wren is an excellent artist who is determined to win a place at an exclusive course in France. Art is her strength since she also suffers from dyslexia and A.D.H.D. She is a particular fan of Van Gogh's Starry Night. But somehow, new love becomes more important than the love of art. When Nolan asks her to stay in New York, she agrees not to apply despite the disappointment of her parents and art teacher.
But then Nolan falls in love with another girl - Reagan.
I think that my students will enjoy this story of first love and will also be interested in the life of girls who attend exclusive private schools and live in New York City. I think the story was well-written and Wren was a great main character. I liked seeing the world from her point of view. I also liked that she had supportive parents and a strong nuclear family. The other girls all are children of divorce and seem to have lots more freedom than Wren does. For some of them, it is freedom that borders on neglect.
I recommend this one.
Favorite Quote:
I looked at her, speechless. My heart started beating a strong, distracting beat, like there was someone furiously pounding on a door in my chest. It felt exactly like I was about to recite a poem that wasn't one hundred percent memorized in front of a class,or even like I was riding a bike down a steep hill and was just out of control enough to be unsure of my outcome. Or it was as if I had lost my footing climbing and almost fell out of a tree. Have you ever felt any of that? Like something dangerous was about to happen?
I got this ARC from Macmillan.
You can buy your copy here
.