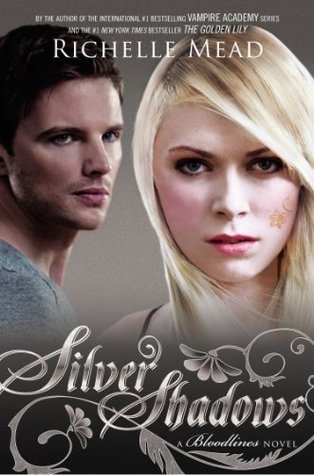 Silver Shadows
Author:
Richelle Mead
Series:
Bloodlines (Book 5)
Publication:
Razorbill (July 29, 2014)
Description:
Sydney Sage is an Alchemist, one of a group of humans who dabble in magic and serve to bridge the worlds of humans and vampires. They protect vampire secrets—and human lives.
In
The Fiery Heart
, Sydney risked everything to follow her gut, walking a dangerous line to keep her feelings hidden from the Alchemists.
Now in the aftermath of an event that ripped their world apart, Sydney and Adrian struggle to pick up the pieces and find their way back to each other. But first, they have to survive.
For Sydney, trapped and surrounded by adversaries, life becomes a daily struggle to hold on to her identity and the memories of those she loves. Meanwhile, Adrian clings to hope in the face of those who tell him Sydney is a lost cause, but the battle proves daunting as old demons and new temptations begin to seize hold of him. . . .
Their worst fears now a chilling reality, Sydney and Adrian face their darkest hour in this heart-pounding fifth installment in the
New York Times
bestselling Bloodlines series, where all bets are off.
My Thoughts:
Please note that this review has to have spoilers especially for
The Fiery Heart
. If you haven't read that yet, what are you waiting for?
In the beginning of this book the story is told in alternate chapters from Sydney and Adrian's point of view. Sydney has been captured by the Alchemists and sent to a hidden compound for re-education that begins with being thrown almost naked into a dark, cold cell where she is fed little and is constantly bombarded with messages to confess her "sins" and repent. She is also dosed with drugs to make her sleep and drugs to make her anxious. Adrian is left in Palm Springs where he tries to connect with Sydney in dreams and gets more and more depressed when he can't. He turns back to his old crutch alcohol to battle the depression.
When Sydney is moved from solitary confinement to the more open areas where she can interact with other detainees, she begins to plot and plan a way to get out of there. She never loses faith that Adrian will find her. But Adrian goes off track for a while when he is brought back to Court and spends quite a bit of time binge drinking. This is partially brought on because no one at Court knows how much he loves Sydney and no one feels the need to do anything to rescue her.
They do finally manage to connect in dreams but Sydney has no idea where she is. It is up to Marcus, Adrian and others to find her and find a plan to rescue her. But the Alchemists have no desire to let her go and are willing to go to great lengths to keep Sydney and to keep her away from Adrian.
And, of course, this book ends doesn't end happily ever after for any of the characters. Adrian and Sydney are in a place of relative safety but other characters we have come to know and love are still in great danger. This is an excellent series and this is a heart-wrenching and heart-warming episode.
Favorite Quote:
Her voice was small, nearly lost in the dripping of water from the fountain. But the power it carried—and the effect it had on me—was monumental. I'd heard the expression "weak-kneed" before but had never lived it until now. My muscles didn't feel as though they could sustain me, and there was a great swelling in my chest, the result of a tangle of emotions I couldn't even begin to describe. Love, Joy. Relief. Disbelief. And mixed in with all of them were the emotions I'd endured these last few months as well: despair, fear, sorrow. It spread out from my heart and I felt tears form in my eyes. It wasn't possible that one person could make you experience so many emotions at once, that one person could trigger a universe of feelings, simply with the sound of your name.
I bought this one. You can buy your copy here.