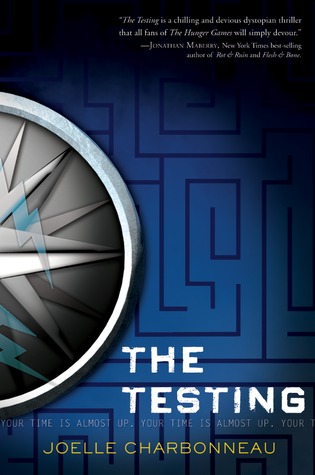 The Testing
Author:
Joelle Charbonneau
Series:
The Testing (Book 1)
Publication:
HMH Books for Young Readers; First Edition edition (June 4, 2013)
Description:
It's graduation day for sixteen-year-old Malencia Vale, and the entire Five Lakes Colony (the former Great Lakes) is celebrating. All Cia can think about—hope for—is whether she'll be chosen for The Testing, a United Commonwealth program that selects the best and brightest new graduates to become possible leaders of the slowly revitalizing post-war civilization. When Cia is chosen, her father finally tells her about his own nightmarish half-memories of The Testing. Armed with his dire warnings ("Cia, trust no one"), she bravely heads off to Tosu City, far away from friends and family, perhaps forever. Danger, romance—and sheer terror—await.
My Thoughts:
Cia Vale is pleased to have been chosen for The Testing. She is eager to get to the University to become a leader in revitalizing her war ravaged world. Her father is a university graduate but has never encouraged his children to try for it. Once Cia is selected, he shares what he remembers and the nightmares that he has from the experience. Cia is warned to be very cautious.
When she arrives at The Testing, she is immediately faced with situations and people that test her in every possible way. Her friend and fellow graduate Tomas and two others from her colony are also taking part in the testing. She watches one of them die when he makes a mistake in the testing. And she watches the test proctors do nothing to help him. She quickly learns that the consequences of failure likely mean death.
There are four rounds of testing. The fourth has the students surviving alone in a trip from Chicago hundreds of miles south to the finish line. They have to deal with land that hasn't been revitalized, dangerous plants and animals, and, most of all, threats from fellow classmates who want to thin down the competition for the few university spots. She and Tomas agree to team up and together face all sorts of dangers.
The students know that their memories of The Testing will be erased. But Cia desperately wants to find a way to hold on to hers. She is also determined to change The Testing because she doesn't at all approve of the way the tests are run.
This is the first book of a trilogy. It is exciting and filled with danger and adventure. I will be eager to read the rest to find out what happens with Cia and Tomas. Luckily, both books are available now. There are some benefits of having a book sit on TBR mountain for a while.
Favorite Quote:
As we approached the green patch, I began to feel certain that this oasis is another kind of test. The perfect oval the grass grows in. The shimmer of a clear, clean, uncontaminated pond that rests in the center. Two trees filled with healthy leaves stand guard on either side. The entire area is only about twenty feet wide and half as long. There is no doubt. This small patch of paradise is man-made.
I bought this one on Aug. 23, 2013.
You can buy your copy here.