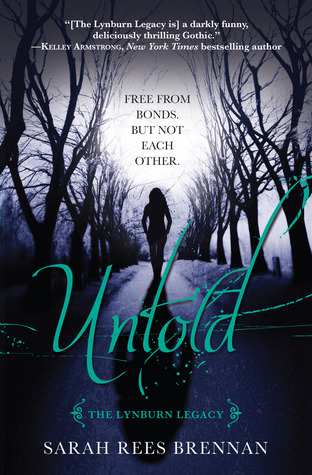 Untold
Author:
Sarah Rees Brennan
Series:
The Lynburn Legacy (Book 2)
Publication:
Random House Books for Young Readers (September 24, 2013)
Description:
A modern, magical twist on the Gothic romance and girl detective genres, the Lynburn Legacy books will appeal to fans of both
Beautiful Creatures
and the Mortal Instruments series. Reviewers have praised the take-charge heroine and the spellbinding romance.
It's time to choose sides. . . .
On the surface, Sorry-in-the-Vale is a sleepy little town. But Kami Glass knows the truth. Sorry-in-the-Vale is full of magic. In the old days, the Lynburn family ruled with fear, terrifying the people into submission by killing human sacrifices for blood and power. Now the Lynburns are back, and Rob Lynburn is gathering sorcerers so the town can return to the old ways.
But Rob and his followers aren't the only sorcerers around. The town must make a decision: pay the blood sacrifice, or fight. For Kami, this means more than just choosing between good and evil. With her link to Jared Lynburn severed, she's now free to love whomever she chooses. But who should that be?
My Thoughts:
In UNTOLD matters in Sorry-in-the-Vale are getting worse. A showdown is coming between Rob Lynburn and his wife Lillian Lynburn. They have radically different futures in mind for the town. Rob wants the return of blood sacrifices; Lillian does not. However, Lillian doesn't have as many sorcerers on her side as Rob.
Now that the link is broken between Kami and Jared, both are still reeling from the changes in their lives. Both are now feeling loneliness for the first time. They are also both still in love with each other but, without the link, they don't know that. They have to get used to learning to know each other like regular people do.
This story is filled with amazing characters. Kami is such fun. She is goofy and prettier than she thinks she is. She is supported by her best friends Ashley and Holly and Ashley's brother Rusty. Then there are the Lynburn cousins - Jared and Ash. Both are amazing in their own ways.
This story is the build up to the battle between Rob and Lillian. Kami and her friends are determined to do their parts to keep their homes safe despite their lack of magic. The story was intense and action-packed. It was also filled with all sorts of emotions.
I can hardly wait for the next book, and would feel this way even if this book hadn't ended on a cliffhanger.
Favorite Quote:
"Yes," Kami told her. "This evening was all my dreams come true. I can never get enough of people looking down their noses at me. You do it beautifully. I wish you had two noses so that you could look at me down both."

Lillian shut her eyes briefly, as if she hoped when she opened them she would behold a world in which people never said ridiculous things.
I bought this one.
You can buy your copy here
.