Book Beginnings on Friday is now hosted by Rose City Reader.
The Friday 56
is hosted at
Freda's Voice. Check out the links above for the rules and for the posts of the participants each week.
Don't dig for your favorite book, the coolest, the most intellectual. Use the CLOSEST.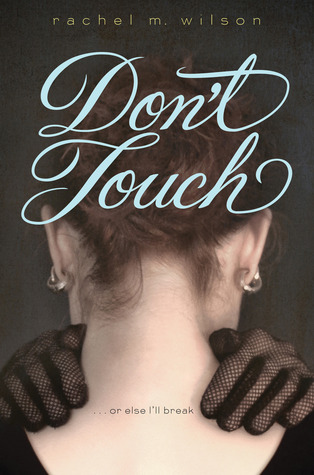 This week I am spotlighting Don't Touch by Rachel M. Wilson. I got this eARC through Edelweiss. Here is the description of the September 2 release.
Step on a crack, break your mother's back,
Touch another person's skin, and Dad's gone for good . . .

Caddie has a history of magical thinking—of playing games in her head to cope with her surroundings—but it's never been this bad before.

When her parents split up, Don't touch becomes Caddie's mantra. Maybe if she keeps from touching another person's skin, Dad will come home. She knows it doesn't make sense, but her games have never been logical. Soon, despite Alabama's humidity, she's covering every inch of her skin and wearing evening gloves to school.

And that's where things get tricky. Even though Caddie's the new girl, it's hard to pass off her compulsions as artistic quirks. Friends notice things. Her drama class is all about interacting with her scene partners, especially Peter, who's auditioning for the role of Hamlet. Caddie desperately wants to play Ophelia, but if she does, she'll have to touch Peter . . . and kiss him. Part of Caddie would love nothing more than to kiss Peter—but the other part isn't sure she's brave enough to let herself fall.

From rising star Rachel M. Wilson comes a powerful, moving debut novel of the friendship and love that are there for us, if only we'll let them in.
Beginning:
"Cadence Finn? Take yourself right out there, hon."

The office lady points toward the academy's courtyard and goes back to her magazine: Crafting for the Southern Home.
Friday 56:
I need to not feel that way. I need to not touch anyone.