Happy Friday everybody!!
Book Beginnings on Friday is now hosted by Rose City Reader.
The Friday 56
is hosted at
Freda's Voice. Check out the links above for the rules and for the posts of the participants each week.
Don't dig for your favorite book, the coolest, the most intellectual. Use the CLOSEST.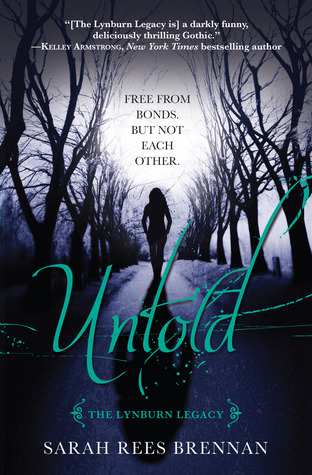 This week I am spotlighting Untold by Sarah Rees Brennan. This is the second book in the Lynburn Legacy series and has been sitting on my TBR mountain since Sept. 25, 2013. Here is the description:
A modern, magical twist on the Gothic romance and girl detective genres, the Lynburn Legacy books will appeal to fans of both Beautiful Creatures and the Mortal Instruments series. Reviewers have praised the take-charge heroine and the spellbinding romance.

It's time to choose sides. . . .

On the surface, Sorry-in-the-Vale is a sleepy little town. But Kami Glass knows the truth. Sorry-in-the-Vale is full of magic. In the old days, the Lynburn family ruled with fear, terrifying the people into submission by killing human sacrifices for blood and power. Now the Lynburns are back, and Rob Lynburn is gathering sorcerers so the town can return to the old ways.

But Rob and his followers aren't the only sorcerers around. The town must make a decision: pay the blood sacrifice, or fight. For Kami, this means more than just choosing between good and evil. With her link to Jared Lynburn severed, she's now free to love whomever she chooses. But who should that be?
Beginning:
WELCOME TO SORRY-IN-THE-VALE. IT'S A MAGICAL PLACE (AND WE MEAN THAT LITERALLY).
By Kami Glass
Friday 56:
"What are you doing?" Angela complained. "Are you trying to make me jog? You know I think people who jog should be shot at midday."

"Why at midday?" Kami asked absently.

"There's no need to ever get up at dawn," Angela told her. "Not even to shoot joggers. We're going to leave my brother behind, Kami; he is one of life's born saunderers."