Teaser Tuesdays is a weekly bookish meme, hosted by MizB of
Should Be Reading
. Anyone can play along! Just do the following:
Open to a random page
Share two (2) "teaser" sentences from somewhere on that page
BE CAREFUL NOT TO INCLUDE SPOILERS! (make sure that what you share doesn't give too much away! You don't want to ruin the book for others!)
Share the title and author, too, so that other TT participants can add the book to their TBR Lists if they like your teasers!
Teaser:
They could have saved her. Instead, they let her die.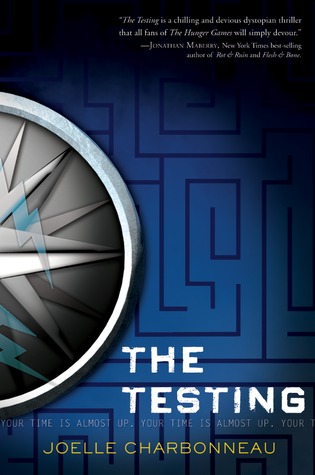 This week my teaser comes from
The Testing
by Joelle Charbonneau. I have had this book on my TBR mountain since August 23, 2013. Here is the description:
It's graduation day for sixteen-year-old Malencia Vale, and the entire Five Lakes Colony (the former Great Lakes) is celebrating. All Cia can think about—hope for—is whether she'll be chosen for The Testing, a United Commonwealth program that selects the best and brightest new graduates to become possible leaders of the slowly revitalizing post-war civilization. When Cia is chosen, her father finally tells her about his own nightmarish half-memories of The Testing. Armed with his dire warnings ("Cia, trust no one"), she bravely heads off to Tosu City, far away from friends and family, perhaps forever. Danger, romance—and sheer terror—await.