Teaser Tuesdays is a weekly bookish meme, hosted by MizB of
Should Be Reading
. Anyone can play along! Just do the following:
Open to a random page
Share two (2) "teaser" sentences from somewhere on that page
BE CAREFUL NOT TO INCLUDE SPOILERS! (make sure that what you share doesn't give too much away! You don't want to ruin the book for others!)
Share the title and author, too, so that other TT participants can add the book to their TBR Lists if they like your teasers!
Teaser:
I acknowledged the cop with only a slight not, not daring to look away from the woman even for a moment. I could see from my peripheral vision that he was completely still, in a heap between Calvin's wheelchair and the crazy lady. I inanely wondered how long people typically remained unconscious after being kicked in the chin with a designer shoe.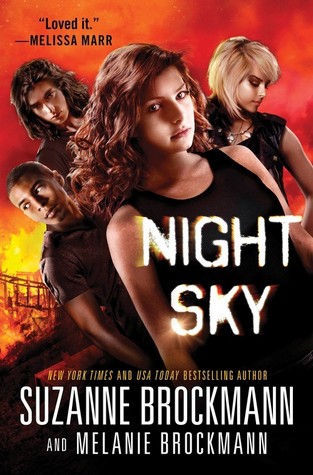 This week my teaser comes from
Night Sky
by Melanie Brockmann and Suzanne Brockmann. When I heard about this book, I was interested because I enjoy Suzanne Brockmann's adult romantic suspense titles. I was glad to see an eARC available from NetGalley. Here is the description of this Oct. 7 release:
SHE'S THE ULTIMATE WEAPON IN FIGHTING DESTINY.

New York Times and USA Today bestselling author Suzanne Brockmann and her daughter Melanie Brockmann have written a pulse-pounding novel of paranormal suspense set in a near future both fantastic and frightening. "Original and exciting, NIGHT SKY propels readers into a dangerous future. Loved it." —Melissa Marr, New York Times bestselling author of Made For You and the Wicked Lovely series

Skylar Reid is shaken when Sasha, the little girl she babysits, is kidnapped. Scared that the weird dreams she's been having about Sasha are real-and even more afraid that Sasha is already dead. When a mysterious girl with extreme butt-kicking abilities roars into town on a motorcycle and, well, stalks Skylar things get even weirder. Supergirl Dana tells Sky that she also has abilities – that a hormone in their blood makes them stronger, faster, smarter. A hormone that the makers of a new drug called Destiny will murder to get their hands on.

Dana and Milo, her dangerously hot yet oh-so-forbidden partner in crime, want Sky to join them in their mission – to mold Sky into the ultimate weapon. She can sense there's something about her abilities they're not telling her. But the only way to save Sasha and stop other girls from being taken is to embrace the weird...and fight Destiny.