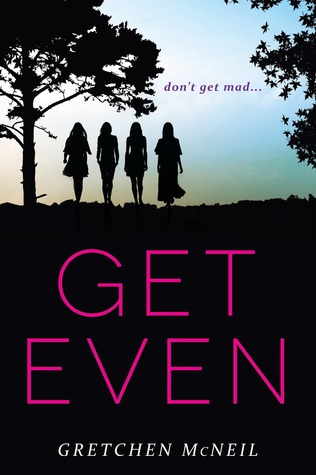 Get Even
Author:
Gretchen McNeil
Publication:
Balzer + Bray; Original edition (September 16, 2014)
Description:
The Breakfast Club
meets
Pretty Little Liars
in Gretchen McNeil's witty and suspenseful novel about four disparate girls who join forces to take revenge on high school bullies and create dangerous enemies for themselves in the process.
Bree, Olivia, Kitty, and Margot have nothing in common—at least that's what they'd like the students and administrators of their elite private school to think. The girls have different goals, different friends, and different lives, but they share one
very
big secret: They're all members of Don't Get Mad, a secret society that anonymously takes revenge on the school's bullies, mean girls, and tyrannical teachers.
When their latest target ends up dead with a blood-soaked "DGM" card in his hands, the girls realize that they're not as anonymous as they thought—and that someone now wants revenge on
them
. Soon the clues are piling up, the police are closing in . . . and everyone has something to lose.
My Thoughts:
BE WARNED! My first reaction upon finishing GET EVEN was "It can't end there!" I got totally sucked into the story of four girls from various backgrounds and with various interests who band together to get revenge for the bullying activities that are going on at the Catholic high school.
Kitty is a the volleyball captain and a student leader. She is also the only Asian at her school who isn't good at math and science. Olivia is the scholarship student from a broken home who is an incredible actress. Bree is a State Senator's daughter who is a school rebel. Margot is the quiet one who is scarred from a junior high suicide attempt caused by bullying. These girls all have their own reasons and their own secrets as they form DGM - Don't Get Mad, Get Even.
The new school year begins with a DGM prank. They insert video of bullying Coach Richard Creed into the beginning assembly which completely humiliates him and makes him an object of ridicule among the studhet body. This just makes him more determined to find out who DGM is and see that they are expelled form school. When they catch sight of a video made by a new student exploiting a friend of one of the girls, they make Ronnie DeStefano their next target. Only someone else has targeted Ronnie too. When Ronnie is found battered to death with a DGM card by his body, the girls know that they have to find the killer before DGM gets blamed.
There are so many possible suspects including Bree's best friend John, Margot's new and first boyfriend Logan, and the bullying coach Richard Creed who is taken out of the running when he is found murdered too. Then there is the mysterious Christopher Beeman who is connected to Bree, Coach Creed and Ronnie DeStefanto. Or maybe it is the school female bully Amber and her boyfriend Rex who are the murderers.
This was a great mystery. The tension was high. The four girls - who really don't know each other well - go through periods when they suspect each other, too. The ending goes beyond cliffhanger. I need a sequel to this book now. It will be fun debating with my students about who the killer really is.
Favorite Quote:
The next scene showed a full-body image of Coach Creed dangling from a pull-up bar. In addition to the skintight tank top, he also sported a pair of circa-1975 blue running shorts trimmed in gold, so inappropriately short that Kitty was terrified his man parts might peek out through the leg hole as he pulled his chin up over the bar.
I got this ARC from Balzer + Bray through Edelweiss.
You can buy your copy here
.