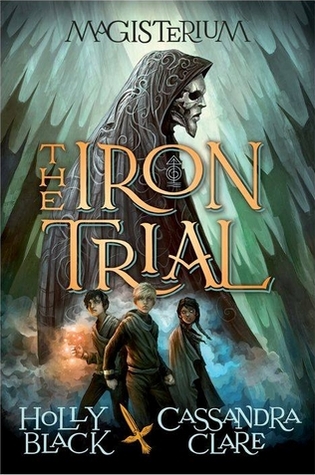 The Iron Trial
Authors:
Holly Black
&
Cassandra Clare
Series:
The Magisterium (Book 1)
Publication:
Scholastic Press (September 9, 2014)
Description:
Most kids would do anything to pass the Iron Trial.
Not Callum Hunt. He wants to fail.
All his life, Call has been warned by his father to stay away from magic. If he succeeds at the Iron Trial and is admitted into the Magisterium, he is sure it can only mean bad things for him.
So he tries his best to do his worst - and fails at failing.
Now the Magisterium awaits him. It's a place that's both sensational and sinister, with dark ties to his past and a twisty path to his future.
The Iron Trial is just the beginning, for the biggest test is still to come . . .
From the remarkable imaginations of bestselling authors Holly Black and Cassandra Clare comes a heart-stopping, mind-blowing, pulse-pounding plunge into the magical unknown.
My Thoughts:
I very much enjoyed this story of a young reluctant mage. Callum Hunt was raised by his father to hate magic. His father lost his wife and almost lost Callum in the last magical war. But Callum is called test to become a member of the next class at the Magisterium and neither he nor his father can refuse the testing. His father is coaching him to fail.
Despite spectacular, and messy, failures at all of the tests, Call is chosen anyway by Master Rufus and set on the path to be a mage. Master Rufus also chooses Aaron Stewart and Tamara Rajavi which throws the three of them together. Aaron is an orphan who has grown up in foster care. Tamara is the daughter of two mage council members. Then there is Call - angry, sarcastic, crippled in one leg. The three forge a friendship as they work together to learn what Master Rufus teaches them. Aaron and Tamara are Call's first friends, the first one to ever stand up for him.
The problem in this story is that, while there is a signed Peace Treaty ending the most recent mage war, no one believes that the Enemy of Death has really decided to accept peace. The Enemy of Death is a mage skilled in chaos magic. Those mages are called makars. Most mages work with earth, air, fire and water. The mages at the Magisterium have been searching for another makar for years so that they would have something to counter the Enemy of Death. Meanwhile, they are fighting off chaos-ridden animals and fearing chaos-ridden humans.
What I enjoyed about the story most was Call's journey from angry misfit to apprentice mage. I liked the setting in a rather magical cave system. I liked the weird foods that were served for meals. I enjoyed watching Call make friends. I liked that he stood up for himself against school rivals like Jasper who was jealous that Call was chosen as Master Rufus's apprentice instead of himself.
I didn't see that surprise at the end coming and I completely understand the decision that Call made regarding it. I'll be eager to talk to other readers to find out what they think of Call's decision. And I will be especially eager to read more in this series to see how the decision plays out. I can't wait to share this book with my middle grade readers.
Favorite Quote:
Callum Hunt was a legend in his little North Carolina town, but not is a good way. Famous for driving off substitute teachers with sarcastic remarks, he also specialized in annoying principals, hall monitors, and lunch ladies. Guidance counselors, who always started out wanting to help him (the poor boy's mother had died, after all) wound up hoping he'd never darken the door of their offices again. There was nothing more embarrassing than not being able to come up with a snappy comeback to an angry twelve-year-old.
I got this eARC from NetGalley.
You can buy your copy here
.