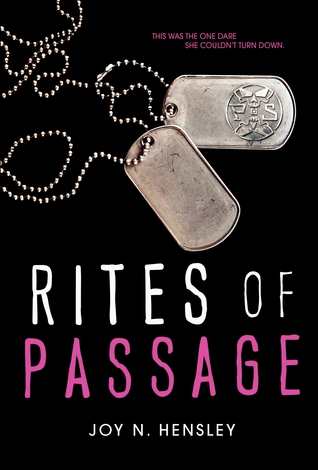 Rites of Passage
Author:
Joy N. Hensley
Publication:
HarperTeen (September 9, 2014)
Description:
In this fast-paced, high-stakes debut novel, sixteen-year-old Sam McKenna discovers that becoming one of the first girls to attend a revered military academy means living with a target on her back. As Sam struggles to prove herself, she learns that a decades-old secret society is alive and active . . . and determined to force her out. Fans of Simone Elkeles and Trish Doller will love
Rites of Passage
's perfect blend of sizzling romance and edge-of-your-seat suspense.
My Thoughts:
RITES OF PASSAGE was a gritty contemporary story about a girl who enrolls in an all-boys military academy because of a bet. Sam McKenna is the youngest of three children of Lieutenant Colonel McKenna and has been raised in a military-obsessed family. She met a bet with her older brother Amos that led to this. Her brother Jonathan is the Cadet Colonel of the school
Sam was supposed to be one of five girls in the first class but one doesn't show up and another two are quickly washed out of the program. There is a large group of students and former students who are violently opposed to allowing girls in the school. Even before she arrives, she receives all sorts of harassing messages demanding that she quits. Once she does arrive, she faces escalating harassment. But Sam is stubborn and she knows that she is setting the example for other girls who might enter in the future.
She soon runs afoul of the group that wants her to quit. Boot camp is hard for all the new students but Sam becomes the special target of one of the boys in charge of the new recruits. Matthews is particularly determined to force Sam to go home. The descriptions of the physical and mental demands on new recruits make me wonder why anyone would every join the military.
But Sam has supporters too. Her father sets up one of his former colleagues now acting as the school's chaplain to be Sam's mentor. She also has the support of her Drill Sergeant who manages to make Matthews back off when he is present. She also has the support of a computer hacker girl named Jax who should have been the fifth girl to enroll and the support of her brother Amos's best friend Tim.
I thought Sam was an amazing character. Her determination, strength, and sense of honor were her outstanding characteristics. Her need for her father's approval and her need to fulfill her promise to her brother Amos made my heart ache. The way she handles the betrayal by those who should support her without losing her determination showed her strength of character. I thought the romance with Drill was realistically done.
This is a great story for young adults who wonder what it would be like to attend a military school and who wonder what it would be like to be a path breaker. It is also for fans of strong female characters. I recommend it and am eager to share it with my students.
Favorite Quote:
Dad looks at me, lips tight, sizing me up. Then he nods. "Make me proud, Sam."

He's said it now. The one thing the one thing I've been telling myself it's not about since I agreed to this stupid dare in the first place.

Because of course this is for him.

It's always for him.

After all, when you're a girl and your Dad's pretty much the most badass lieutenant colonel there ever was, there's no way you're ever going to be able to make him proud.

Unless you do something stupid.

Like agree to be one of the first girls to ever enroll at a previously all-boys military academy.
I got this ARC from HarperTeen through Edelweiss.
You can buy your copy here
.