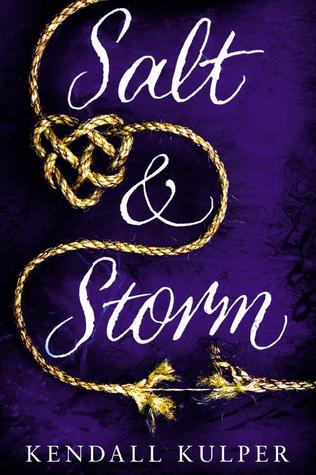 Salt & Storm
Author:
Kendall Kulper
Publication:
Little, Brown Books for Young Readers (Sept. 23, 2014)
Description:
A sweeping historical romance about a witch who foresees her own murder—and the one boy who can help change her future.
Sixteen-year-old Avery Roe wants only to take her rightful place as the witch of Prince Island, making the charms that keep the island's whalers safe at sea, but her mother has forced her into a magic-free world of proper manners and respectability. When Avery dreams she's to be murdered, she knows time is running out to unlock her magic and save herself.
Avery finds an unexpected ally in a tattooed harpoon boy named Tane—a sailor with magic of his own, who moves Avery in ways she never expected. Becoming a witch might stop her murder and save her island from ruin, but Avery discovers her magic requires a sacrifice she never prepared for.
My Thoughts:
SALT & STORM combined a history of the whaling industry and those who followed it with magic to make a compelling fantasy novel. The main character of this story is Avery Roe who is supposed to be the next Roe witch on this small island near Nantucket. For many generations the Roe witches have provided spells and charms to protect the many whalers and other sailors from the island.
Avery was raised by her grandmother until she was twelve. Her mother had left her there to protect her. Her mother hates magic and hates the idea of being the Roe witch. She comes for Avery when she is twelve determined to give her a better life free from the heartaches that come with being the Roe witch. To say Avery is displeased is to completely understate her reaction. She is doing everything to make her mother know how unhappy she is with the life her mother has planned for her.
Avery keeps trying to escape from her mother to go back to her grandmother but, despite her hatred of magic, Avery's mother has cast a spell on Avery to prevent her from going to her grandmother and has cursed anyone who would try to help her. Her friend Tommy is hurt badly when he tries to help, loses his job, and has to ship out on a whaling ship.
While Avery doesn't have the family magic of her grandmother despite trying to wake it any way she can, she does have the ability to interpret dreams. When a young whaler from the Pacific Islands named Tane comes to her to interpret his dreams so that he can get revenge for the death of his family, he proposes to trade a way to break her mother's curse. While the two are working together, they fall in love.
This was a fascinating story abut magic, love, and fate.
Favorite Quote:
Days after my twelfth birthday, she dragged me kicking and crying from the cottage on the rocks to the big town at the northern end of the island and in no uncertain terms absolutely forbade me to become the witch.
I got this ARC from Edelweiss.
You can buy your copy here
.