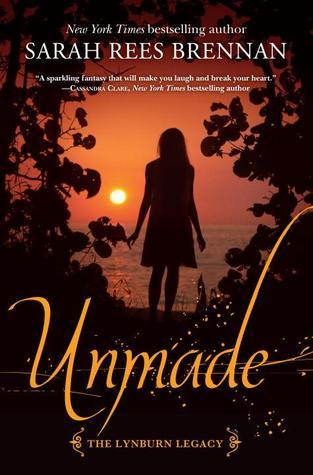 Unmade
Author:
Sarah Rees Brennan
Series:
The Lynburn Legacy, Book 3
Publication:
Random House Books for Young Readers (September 23, 2014)
Description:
A modern, magical twist on the Gothic romance and girl detective genres, the Lynburn Legacy books will appeal to fans of both
Beautiful Creatures
and the Mortal Instruments series.
Powerful love comes with a price. Who will be the sacrifice?
Kami has lost the boy she loves, is tied to a boy she does not, and faces an enemy more powerful than ever before. With Jared missing for months and presumed dead, Kami must rely on her new magical link with Ash for the strength to face the evil spreading through her town.
Rob Lynburn is now the master of Sorry-in-the-Vale, and he demands a death. Kami will use every tool at her disposal to stop him. Together with Rusty, Angela, and Holly, she uncovers a secret that might be the key to saving the town. But with knowledge comes responsibility—and a painful choice. A choice that will risk not only Kami's life, but also the lives of those she loves most.
As coauthor with Cassandra Clare of the bestselling Bane Chronicles, Sarah Rees Brennan has mastered the art of the page-turner. This final book in the Lynburn Legacy is a wild, entertaining ride from beginning to shocking end.
My Thoughts:
It is hard to talk about the third book in a trilogy without spoiling the story for people who haven't read the rest or haven't had a chance to read this one yet. I feel that I can confidently say that I was extremely satisfied with the conclusion to this story.
Kami and her friends are facing overwhelming odds as they try to protect their town and the people they love from the evil sorcerer Rob Lynburn. The relationship between Kami, Ash and Jared is as twisted and tangled as it could possibly be and doesn't make any of them happy. Risky chances are taken, sacrifices are made, and hearts are broken and mended.
This is an excellent series. Kami hasn't lost her unique narrative voice or her habit of making jokes whenever the emotions run high. Angela and Rusty are also the sources of some great dialog. I laughed out loud on a number of occasions. I love the relationship Kami has with her Dad. She can take the risks she does because she knows she has his unconditional love and support.
Brennan has a way with playing with this reader's emotions. I went from laughing out loud to getting all choked up and crying at one point in this story. I will be glad to share this story with my students.
Favorite Quote:
"Did he say he wanted us to go steady and he was planning to offer me his pin and/or letter jacket?"

Kami crossed the fingers of her free hand, mouthing "Please say yes," and Holly grinned and batted at them, "I may not remember exactly when this conversation took place, but I'm pretty sure it wasn't in the 1950s, Kami."
I got this ARC from NetGalley.
You can buy your copy here
.