Happy Friday everybody!!
Book Beginnings on Friday is now hosted by Rose City Reader.
The Friday 56
is hosted at
Freda's Voice. Check out the links above for the rules and for the posts of the participants each week.
Don't dig for your favorite book, the coolest, the most intellectual. Use the CLOSEST.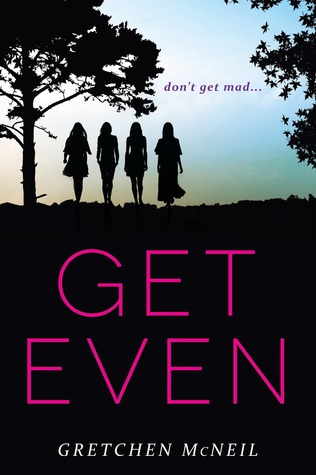 This week I am spotlighting Get Even by Gretchen McNeil. I got this eARC from Balzer + Bray through Edelweiss. The book will be released on Sept. 16.
Here is the description:
The Breakfast Club meets Pretty Little Liars in Gretchen McNeil's witty and suspenseful novel about four disparate girls who join forces to take revenge on high school bullies and create dangerous enemies for themselves in the process.

Bree, Olivia, Kitty, and Margot have nothing in common—at least that's what they'd like the students and administrators of their elite private school to think. The girls have different goals, different friends, and different lives, but they share one very big secret: They're all members of Don't Get Mad, a secret society that anonymously takes revenge on the school's bullies, mean girls, and tyrannical teachers.

When their latest target ends up dead with a blood-soaked "DGM" card in his hands, the girls realize that they're not as anonymous as they thought—and that someone now wants revenge on them. Soon the clues are piling up, the police are closing in . . . and everyone has something to lose.
Beginning:
Bree sat back against the chain-link fence, bouncing her tennis racket lightly against the toe of her black Converse. "Why do we still have physical education in school?"
John snatched the racket out of her hand. "It's a political conspiracy to repress the youth of America through enforced humiliation."
Friday 56:
"Thank you," Father Uberti said, without an ounce of sincerity. He cleared his throat with unusual violence, as if to punish his vocal cords for insubordination. "I've called this assembly today to address a threat that has weaseled its way into the very soul of our school."