Teaser Tuesdays is a weekly bookish meme, hosted by MizB of
Should Be Reading
. Anyone can play along! Just do the following:
Open to a random page
Share two (2) "teaser" sentences from somewhere on that page
BE CAREFUL NOT TO INCLUDE SPOILERS! (make sure that what you share doesn't give too much away! You don't want to ruin the book for others!)
Share the title and author, too, so that other TT participants can add the book to their TBR Lists if they like your teasers!
Teaser:
"Granma?" I whispered, my heartbeat rising is little pricks. My palms began to sweat, my fingertips to shake and tremble, and I could feel something, something pulling at me, a force reaching through my fingers, through my skin, my bones, traveling deep inside of me, yanking, grabbing, clawing like a cat tearing apart a ball of string.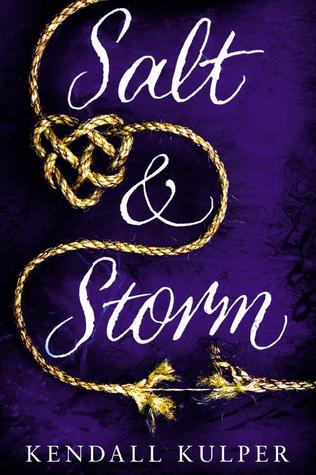 This week my teaser comes from
Salt & Storm
by Kendall Kulper. I got this eARC from Edelweiss. Here is the description of this Sept. 23 release:
A sweeping historical romance about a witch who foresees her own murder—and the one boy who can help change her future.

Sixteen-year-old Avery Roe wants only to take her rightful place as the witch of Prince Island, making the charms that keep the island's whalers safe at sea, but her mother has forced her into a magic-free world of proper manners and respectability. When Avery dreams she's to be murdered, she knows time is running out to unlock her magic and save herself.

Avery finds an unexpected ally in a tattooed harpoon boy named Tane—a sailor with magic of his own, who moves Avery in ways she never expected. Becoming a witch might stop her murder and save her island from ruin, but Avery discovers her magic requires a sacrifice she never prepared for.