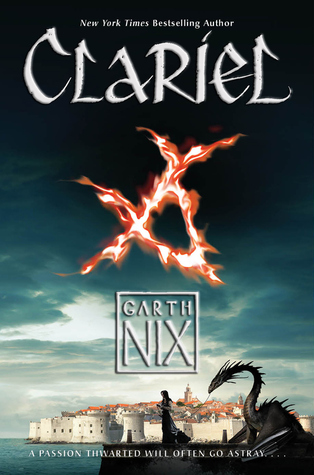 Clariel
Author:
Garth Nix
Series:
Abhorsen (Book 4)
Publication:
HarperCollins (October 14, 2014)
Description:
The long-awaited fourth book in the
New York Times
bestselling Old Kingdom series by Garth Nix
Award-winning author Garth Nix returns to the Old Kingdom with a thrilling prequel complete with dark magic, royalty, dangerous action, a strong heroine, and flawless world-building. This epic fantasy adventure is destined to be a classic, and is perfect for fans of
Game of Thrones
.
Clariel is the daughter of one of the most notable families in the Old Kingdom, with blood relations to the Abhorsen and, most important, to the King. She dreams of living a simple life but discovers this is hard to achieve when a dangerous Free Magic creature is loose in the city, her parents want to marry her off to a killer, and there is a plot brewing against the old and withdrawn King Orrikan. When Clariel is drawn into the efforts to find and capture the creature, she finds hidden sorcery within herself, yet it is magic that carries great dangers. Can she rise above the temptation of power, escape the unwanted marriage, and save the King?
My Thoughts:
CLARIEL is an epic fantasy set in the world of Nix's Abhorsen trilogy but happening hundreds of years before it. It tells the story of a young girl named Clariel who is the daughter of a famous Goldsmith and a cousin of the King. When she is taken to Belisaere, she is very unhappy. She wishes to be a borderer and spend her life in the great forests of the country. She doesn't like the crowds; she doesn't like the noise; she doesn't like being surrounded by stone and walls. Clariel has a difficult relationship with her parents. She wants to love them but they only see her as a pawn to be played to further their ambitions.
Belisaere is in a state of flux. The King has refused to rule for many years and has become a recluse in his castle. The power vacuum has been filled by the Guilds. Guildmaster Kilp of the Goldsmiths is the city leader but he is still hungry for more power. It is his wish, abetted by her mother, to have Clariel marry his son. He has a further goal of deposing the king and setting up Clariel as his puppet Queen. Clariel meets his son Aronzo and takes an immediate dislike to him when she attends a school that is attended by all the "best people." There she also meets Belatiel who is the great-nephew of the current Abhorsen and also a relative of Clariel and the King.
This is also a story about magic. It is a time of conflict between Charter Magic and Free Magic. Charter Magic is going out of favor with the "better people" of Belisaere. Clariel has the baptismal Charter mark but doesn't have much interest or skill in Charter Magic. Free Magic is unbound magic. It is the duty of the Charter families - the King, the Abhorsens, the Clayrs - to protect from Free Magic. But the king is in hiding and the current Abhorsen is more interested in hunting than doing his job to control Free Magic. Clariel has a talent for Free Magic and is a berserker. It is when she lets her rage go that she can control the elementals who are Free Magic.
When she gets caught up in the politics of the day, she turns to Free Magic to try to right wrongs. But she is riding a tiger and doesn't know it. Her good intentions are almost overwhelmed by the seductive nature of Free Magic.
The story is filled with action and adventure, magic and mayhem. I recommend it to lovers of epic fantasy.
Favorite Quote:
"She held the creature," said Kargrin. "That is something beyond the physical strength of any mortal. It was her will that held it, and that is how Free Magic Sorcerers are made. If she should meet the creature again, and dominate it, find how...simple it would be to wield the powers the creature would give her...it is a great risk as long as that creature is free."

"She is the Abhorsen's granddaughter," said Roban doubtfully.

"The Abhorsens bind Free Magic creatures," said Kargrin. "They do not dominate them and take them into service."
I got this ARC from Edelweiss.
You can buy your copy here
.