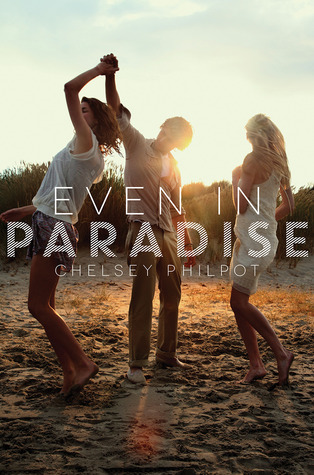 Even in Paradise
Author:
Chelsey Philpot
Publication:
HarperCollins (October 14, 2014)
Description:
The Great Gatsby
meets
Looking for Alaska
When Julia Buchanan enrolls at St. Anne's at the beginning of junior year, Charlotte Ryder already knows all about her. Most people do . . . or think they do. Charlotte certainly never expects she'll be Julia's friend. But almost immediately, she dives headfirst into the larger-than-life new girl's world—a world of midnight rendezvous, dazzling parties, palatial vacation homes, and fizzy champagne cocktails. And then Charlotte meets, and begins falling for, Julia's handsome older brother, Sebastian. But behind Julia's self-assured smiles and toasts to the future, Charlotte soon realizes, she is still suffering from a tragedy. A tragedy that the Buchanan family has kept hidden . . . until now.
With inspiration drawn from Evelyn Waugh's
Brideshead Revisited
, Chelsey Philpot's moving debut novel perfectly captures the intensity, the thrill, and the heartbreak of our too-brief friendships and loves.
My Thoughts:
EVEN IN PARADISE was a story about friendship and how friendship can change lives. Charlotte Ryder is a scholarship student at St. Anne's with a close circle of friends when Julia Buchanan enrolls. Julia is a larger-than-life character from a larger-than-life family.
When Charlotte helps Julia out, she and Julia become friends. They form the kind of friendship that has Charlotte, now nicknamed Charlie, abandoning old friends and getting swept up into Julia's world of summer vacations on Nantucket, star-studded parties, drinking and pranks. She is accepted into the family by Julia's parents Boom and Teresa, her brother's Bradley and Sebastian and her younger sister Cordelia. In fact, she falls in love with Sebastian and they have a romance.
But everything isn't golden in paradise, Julia is a troubled young woman who is suffering from massive guilt regarding the death of her beloved older sister Gus. That's why she came to St. Anne's. Gus had gone there and Julia wants to learn more about her. She is trying to live up to what she believes were Gus's standards.
Charlie is an artist. She is also quite observant. She is also the sort of person who leads with her heart. She sees a troubled Julia but loves her as she loves Julia's whole family. She knows she doesn't fit into the lifestyle but hopes that love will triumph. When things fall apart, when she learns secrets that send Julia running, Charlie is strong enough to learn from the past and to use what she learned for her future.
I liked the style of the story. Charlie tells it as she remembered it and as she saw things. I had figured out the big secret pretty early on in the story but that didn't diminish the enjoyment I found in following Charlie's journey. Thoughtful readers will enjoy this story about friendships that come and go and change lives.
Favorite Quote:
But I have no illusions. Even knowing everything, I would have chosen the same.

It's only in hindsight that we can point, as easily as finding a town on a map, to the moments that shaped us—the moments when choices between yeses and nos determined the people we became.
I got this ARC from Edelweiss.
You can buy your copy here
.