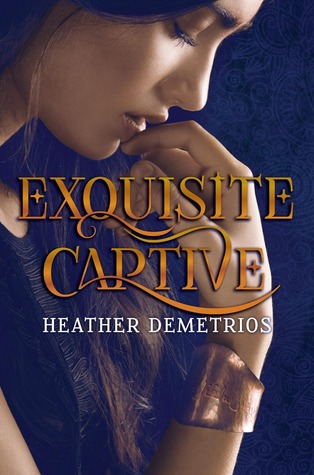 Exquisite Captive
Author:
Heather Demetrios
Series:
The Dark Caravans Cycle
Publication:
Balzer + Bray (October 7, 2014)
Description:
For fans of Laini Taylor's Daughter of Smoke and Bone series and Leigh Bardugo's Grisha Trilogy comes the first book in the Dark Caravan Cycle, a modern fantasy-adventure trilogy about a gorgeous, fierce eighteen-year-old jinni who is pitted against two magnetic adversaries, both of whom want her—and need her—to make their wishes come true.
Nalia is a jinni of tremendous ancient power, the only survivor of a coup that killed nearly everyone she loved. Now in hiding on the dark caravan—the lucrative jinni slave trade between Arjinna and Earth, where jinn are forced to grant wishes and obey their human masters' every command—she'd give almost anything to be free of the golden shackles that bind her to Malek, her handsome, cruel master, and his lavish Hollywood lifestyle. Enter Raif, the enigmatic leader of Arjinna's revolution and Nalia's sworn enemy. He promises to release Nalia from her master so that she can return to her ravaged homeland and free her imprisoned brother. There's just one catch: for Raif's unbinding magic to work, Nalia must gain possession of her bottle . . . and convince the dangerously persuasive Malek that she truly loves him.
My Thoughts:
What a breathtaking start to a new series! Nalia is a jinni on Earth who was sold to Malek who uses her to help him gain wealth and power. She is bound to him and can't kill him because his first wish was to be given immortality unless he chooses to die. She is the only remaining member of her ruling caste. She watched as he sisters-in-arms were all murdered in a coup engineered by the Ifrit. She was badly wounded and then smuggled to Earth and sold. The only thing that is keeping her from taking her own life is the hope that she will be able to return to Arjinna someday and rescue her younger brother who is in a Ifrit work camp.
Things weren't good on Arjinni even before the Ifrit coup. The society was divided into castes with the lower two castes bound to their betters. There was a budding revolution as members of those lower castes were having their bonds broken. Some were fleeing to Earth but many were trying to overthrow Nalia's caste who reacted by taking brutal measures against the revolutionaries. Nalia wasn't well suited to be a member of her caste. Sure, she had all four kinds of magic, but she wasn't interested in torturing or repressing anyone.
Now, three years after Nalia has come to Earth, the revolution isn't going well. The Ifrit make Nalia's caste seem soft and progressive. Raif is the leader of revolutionaries. At only 18, he took over when his father was killed. He needs Nalia to find a secret relic that her caste and hidden and only a member of her caste can find. He was never expecting for fall in love with her.
Nalia has to fend off the advances of her master Malek who is convinced that he has fallen in love with her while convincing him that she is in love with him in order to get the bottle that is the symbol of her captivity. Raif can break her bond with Malek if she can get the bottle. She is willing to trade the relic - a ring - for her freedom and for a chance to rescue her brother.
To complicate things even further, the Empress of the Ifrit has sent her right hand man to find and kill Nalia. He is leaving a string of missing and devoured jinn as he searches for Nalia. Nalia needs to have the bond with Malek broken so that she can access all her powers if she is to have any chance against the Empress' hit man.
The story is filled with great characters, an interesting world in Arjinna, and romance too. The writing is very descriptive without slowing down the plot. Nalia's conflict as she starts to have feeling for both Malek and Raif are very realistically portrayed. I can't wait to find out what happens next.
Favorite Quote:
Malek tilted his head to the side, watching her.

"What?" she asked, flushing.

His finger brushed her cheek. "Nothing," he said. "It's just nice to see you happy."

She wasn't happy. That would require wrists without shackles and dozens of jinn to come back from the grave. Happiness was Bashil in her arms and Arjinnan soil under her bare feet, not a date with her master.
I got this ARC from from both Edelweiss and Amazon Vine.
You can buy your copy here
.