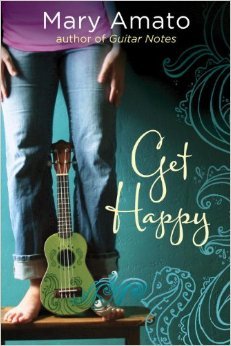 Get Happy
Author:
Mary Amato
Publication:
EgmontUSA (October 28, 2014)
Description:
In this poignant, realistic, contemporary YA by a state master list star, perfect for fans of Sarah Dessen and Gayle Forman, a young songwriter builds a substitute family with her friends in place of the broken family she grew up with.
Minerva has been raised by her single mother after her father left them both. On her 17th birthday, she is shocked to discover that he has been trying to keep in touch, but her mother has been sabotaging his attempts. Furious at her mom, she begins to investigate her dad, a famous marine biologist, only to discover that he has a new family, including a beloved, and perfect, stepdaughter--a girl Minerva already knows and despises. As she makes her way, trying to build her performing and songwriting career, her jealousy takes over and threatens to derail her life completely. It is only through the efforts of her best friend, Fin, and the introduction of Hayes, a new young man in her life, that she is able to see clearly who she is and who makes up her family.
My Thoughts:
Minerva Watson gets a big surprise when she intercepts a package on her seventeenth birthday. The father that she believed abandoned her and her mother when she was small has sent a birthday present and the note indicates that this isn't his first attempt to keep in touch with her. Minerva has always believed her mother when she said her father abandoned them. But she and her mother aren't the kind that share secrets, Minerva doesn't know how to bring up her father.
Some quick research shows that her father has returned to work at the Shedd Aquarium in Chicago and has become an expert on starfish. Minerva hates him and hates him even more when she learns that he has remarried and has a stepdaughter - stepdaughter who happens to be a fellow employee at Get Happy.
Minerva feels both curiosity and rage when she thinks about her father. She also feels great anger at her mother for keeping them apart. Her mother is actually a real piece of work. She's jealous, controlling, and doesn't really know her daughter. Giving her an ugly sweater for her birthday instead of the ukulele she wants in just the first clue. The final straw is when she cleans her daughter's room and throws away all of the things that Min treasures and then expects Min to thank her.
Luckily, Min has a close friend in Finnegan and a new friend, and potential boyfriend, in Hayes who are there to support her. She is also a budding songwriter and her songs finish many of the chapters. You can really see what she is thinking and how she is feeling in her songs.
I like that the ending is realistic. Min, her mother, and her father have lots to work on to build a healthy relationship for all of them. But I feel confident that Hayes will be there to help her through it all.
Favorite Quote:
"Getting a job is on my list of things to do," he said.

Maybe it was the vim and vigor juice...maybe it was the fact that I didn't want to go home...maybe it was inspiring to see Hayes, who I had pegged as the quiet type, saying yes...I decided to go for it, too.
I got this ARC from Edelweiss.
You can buy your copy here
.