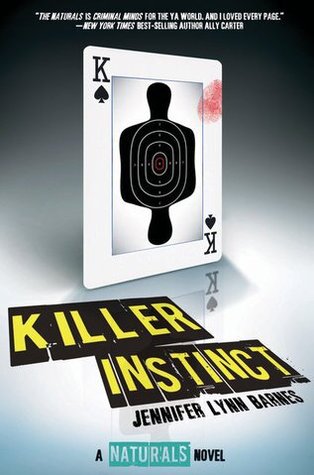 Killer Instinct
Author:
Jennifer Lynn Barnes
Series:
The Naturals (Book 2)
Publication:
Disney-Hyperion (November 4, 2014)
Description:
Seventeen-year-old Cassie Hobbes has a gift for profiling people. Her talent has landed her a spot in an elite FBI program for teens with innate crime-solving abilities, and into some harrowing situations. After barely escaping a confrontation with an unbalanced killer obsessed with her mother's murder, Cassie hopes she and the rest of the team can stick to solving cold cases from a distance.
But when victims of a brutal new serial killer start turning up, the Naturals are pulled into an active case that strikes too close to home: the killer is a perfect copycat of Dean's incarcerated father-a man he'd do anything to forget. Forced deeper into a murderer's psyche than ever before, will the Naturals be able to outsmart the enigmatic killer's brutal mind games before this copycat twists them into his web for good?
With her trademark wit, brilliant plotting, and twists that no one will see coming, Jennifer Lynn Barnes will keep readers on the edge of their seats (and looking over their shoulders) as they race through the pages of this thrilling novel.
My Thoughts:
In this sequel to THE NATURALS, the five kids are still getting over the events of the first book when Agent Sterling moves in. She is a profiler like Dean and Cassie and she and Dean have a history. The kids get involved in a murder investigation when a crime is committed that looks like a copycat crime mimicking the crimes Dean's father committed.
Last book, the focus was on Cassie. This time the focus is on Dean though Cassie is the viewpoint character. Cassie, Lia, Sloane and Michael all want to protect Dean from getting swept up into his father's games. But Dean's father is a complex character who has set up some long range plans.
The kids all use their skills as they try to out-think Dean's father and save lives. Michael read emotions; Lia is a human lie detector; Sloane is great with facts and details. They all need to use all their abilities in this case.
Cassie also has to make some decisions about her relationships with both Michael and Dean. She really likes both boys who have a rivalry between them. Cassie doesn't want to hurt either but it is inevitable that she does.
The story is fast-paced, action-packed and still takes time to work on the relationships between the five kids. I enjoyed every page!
Favorite Quote:
"I can probably offend him without even trying to!" Sloane was sounding altogether to enthusiastic now. "If things get too intense, I'll tell him some statistics about domesticated ferrets."

"That's...errr...a very generous offer, Sloane, but I'd prefer you stay behind the scenes." The director's voice came out somewhat strangled.
I got this ARC from NetGalley.
You can buy your copy here
.